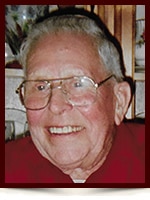 Douglas (Doug) Leonard Paton
January 28, 1924 – January 3, 2016
Douglas (Doug) Paton of Edmonton, beloved father, grandfather and great grandfather, passed away on January 3rd, 2016. He was 91, and just 25 days shy of his 92nd birthday.
Doug will be sadly missed by his family; daughter Bonnie (Ray) Spicer, son-in-Law Bruce Smashnuk, grand-daughter Wendy Delainey, grandson Sean (Chona) Spicer, and four great-grandchildren, Jennifer, Evan, Matthew and Charlize. Doug will also be missed by his dear friend and companion, Linda Cabral.
Doug was predeceased by his wife of 60 years, Jeanette Paton in 2006, and by his eldest daughter, Linda Smashnuk in 2012. Doug was also predeceased by two brothers, Albert and Cyril, and two sisters, Doris and Phyllis.
Doug was a loving, generous man, who left a deep impression on all lives he touched. Our family and many friends over the years were blessed by his sense of fun, humor, unique character and by his genuine kindness. We will miss him dearly.
A reception to celebrate Doug's long and full life will be held at 3pm Friday, January 8th at the home of Bruce Smashnuk, 49 Princeton Crescent, St. Albert. Close friends and relatives are invited, and kindly asked to RSVP.
In lieu of flowers, please donate in Doug's memory to The Alberta Heart and Stroke Foundation or the Alberta Cancer Foundation.
And I shall hear, tho' soft you tread above me
And all my grave will warm and sweeter be
For you will bend and tell me that you love me
And I shall sleep in peace until you come to me
~From the old Irish song "Danny Boy"