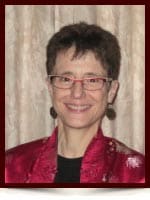 Dr. Sheri Lynne Samuels
January 4, 1953 - January 11, 2015
Dr. Sheri Lynne Samuels died at the age of 62, at home in Edmonton with her family, after a courageous battle against cancer. She carried out her fight, as she lived, with thoughtfulness, grace and dignity.
Sheri was born in Monticello, New York, to the late Boris and Claire Samuels. Sheri was always admired for her intelligence, fortitude, determination and good values, bringing these rare attributes to a thoughtful, wise, caring and practical life. She refrained from the lazy, narrow or easy view and worked hard to achieve a balance in an understated way. After graduating from Cornell University in 1974, she worked as a Health Inspector, a Physician's Assistant and then went to medical school, receiving her MD from the University of Alberta in 1994. She worked as a physician at Boyle McCauley, Hy's Center and Canadian Blood Services. Her dedication to her patients was only matched by her dedication to her family and friends.
She is survived by her husband, Dr. Dennis Kunimoto and children, Brenden and Danika Kunimoto, as well as her brother, Gary Samuels, and sister, Bonnie Kaye.
Thanks to Debby Waldman and Dr. Anola Carson for their friendship and exceptional support, especially over the past few months. Thanks to Sheri's extended family and friends for their love and support. A special thanks to Cathy Gohring and Cindy Karp for their lifelong friendship, and thanks to the Infectious Diseases extended family for their generous help. We are grateful for the exceptional, compassionate medical care from Dr. Helen Steed and Elisha Andrews, Dr. Ami Singh and Dr. Janice Paproski. Also, a thank you to the dedicated staff at the Cross Cancer Institute and Royal Alexandra Hospital, who provided excellent care.
A private memorial service will be held for family and close friends.
Donations may be made in memory of Sheri Samuels at https://albertacancer.ca/donate/in-memory for the fight against ovarian cancer.