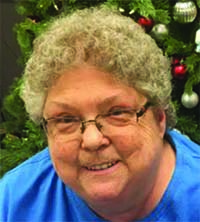 Elaine Anne Ritchie
May 13, 1949 to February 2, 2018
It with profound sadness that we announce the passing of Elaine A. Ritchie; mother, grandmother, and a friend to many. Elaine passed away at the Misericordia Hospital, on February 2, 2018, after a brief illness.
Elaine is survived by her children; Dan Dixon (Ali), Niki Dixon (Blair), and Bob Dixon; grandchildren, Taylor, Kayleigh, and Macquire; and numerous cousins, aunts, uncles, and friends. She will also be dearly missed by her friend and companion, of over 30 years, Don Lanthier.
Elaine was predeceased by her parents, Orsman and Bessie.
In addition to being a real fan of rock music, Elaine was a life-long lover of puzzles and dolphins, both real and in figurine form. Elaine was a fierce crib player, usually prevailing against her opponents. She sure was a tough one to beat.
Elaine had the privilege of making many friends in her later years, both at the Cloverdale Manor in Warburg, and at the Edmonton General Hospital, where she resided. Elaine always helped the other residents, and was recognized by staff, at both institutions, for her giving and cheerful nature.
A memorial service will be held sometime in the spring. If you are interested in knowing the details, when the time comes, please contact the family at elainesmemorial@gmail.com.
In lieu of flowers the family has asked that donations be made to the Heart and Stroke Foundation of Alberta (http://www.heartandstroke.ca).
The family wishes to thank the staff, nurses, and doctors at the Misericordia and Royal Alexandra Hospitals, Cloverdale Manor, and the Edmonton General Hospital, for their kindness, caring, and compassion while Elaine was a patient and/or resident at these facilities.
Memories, and condolences may be shared through https://www.trinityfuneralhome.ca