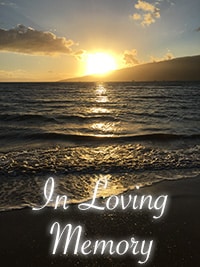 Elisa-Jean Brading
Elisa-Jean Brading (Lise) aged 42 yrs. passed away unexpectedly in Edmonton, AB on December 14, 2018.   Elisa was born on Jan 5, 1976 and lived in Thunder Bay for most of her life.
Elisa's greatest loves were her three children whom she was extremely proud of.  She never missed an opportunity to talk about them.  The special bond she had with each of them can never be broken.
Elisa moved to Peace River, AB with her family in 2008.   It was there that she found her true calling as an industrial medic working throughout western Canada in the oil and gas industry.  She excelled in her chosen profession and developed many close friendships along the way.
She was an extremely knowledgeable and well-read person who loved having lively conversations regarding politics, world events, medical advancements and numerous other topics that piqued her interest. Elisa had strong opinions and was passionate about expressing and defending them.  Her wit and sarcasm made her friends and sometimes not.   That was Elisa.  Her family and close friends understood her strengths and weaknesses and loved her unconditionally.  Over the last few years she lived as a beautiful free spirit, always enjoying the simple things in life.
Elisa is survived by her sons Mackenzie Hebert (fiancée Nikki Cork), Nikolas Brading, both of Edmonton, AB, and Jonathan Brading of Peace River, AB, parents Maria Jarvela-Hall and William "Bill" Hall of Peace River, AB, sister Raili-ann Chiodo, and brother Steven Hebert both of Thunder Bay, ON.  Elisa is also survived by her very special nephew Matti Chiodo whom she adored, nephew Caleb Hebert, niece Trinity Hebert all of Thunder Bay, uncles Olavi Jarvela (Barbara) and Vesa Jarvela (Cindy) of Thunder Bay, and Sakari Jarvela (Stacy) of Hueytown, Alabama, and numerous cousins.  She also leaves behind her dearest and closest friends Shannon Doran Smith of Edmonton, AB, Jodie Endressen of Whitecourt, AB, Michelle Crabbe of Fort St. John, B.C., and longtime friend Kim Cassell of Spirit River, AB.
Elisa was predeceased by her grandparents Kirsti and Eino Jarvela.
Elisa was a very private person and in keeping with her wishes, cremation has taken place.  A private family internment will take place at a later date.
A celebration of Elisa's life will take place in Thunder Bay in the summer of 2019.