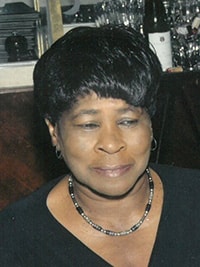 Elsy James
It is with great sadness our family announces that Elsy James was called Home on Friday June 19,2018. Elsy passed away peacefully, surrounded by her loving husband Ezra James, daughter Jennifer, grandson James, niece Paulette and valued friends.
Elsy is survived by her husband Ezra James, daughter Jennifer, son Keith, and brother Leonard Gayle, five grandchildren: Karen, James, Elsy, Duke and Michael, as well as seven great-grandchildren, numerous nieces, nephews and cousins.
Elsy was born in St. Ann's, Jamaica where she enjoyed her upbringing with her many sisters and bothers, all raised by their loving parents Richard Gayle and Eugina Lewis. Elsy immigrated to Edmonton, Alberta in 1972. She fell in love with the city and made it her permanent home. She went on to immerse herself in the community and rich culture of Edmonton, creating long lasting friendships in the communities where she lived and worked.
Elsy had a great passion for music and enjoyed playing her guitar both privately and publicly. She shared her talents by performing at different community venues. She became an active member of the Shiloh Baptist Church and later went on to join the congregation at the New Hope Christian Assembly, where she sang in the choir. Her retirement from healthcare allotted her more free time to pursue her true passion for music. She became a member of the In Harmony Community Choir, sharing her musical talents and performing at numerous community venues throughout Edmonton.
Elsy's love for life and passion for helping others propelled her to participate in numerous events and volunteer her service to many social agencies in and around Edmonton. Elsy enjoyed mentoring others. Her generosity and kindness knew no bounds; caring for and helping the people she loved. She had a gift for lifelong friendships, especially her close-knit group of sisters and brothers in Christ whom she deeply adored until the very end.
We feel blessed to have had Elsy in our lives. We, her family, will carry on her legacy to fulfill her passion for loving her family, friends and diverse cultures within our neighbourhood and communities.
Public Visitation
Thursday July 5, 2018 3:00PM - 5:00PM
Trinity Funeral Home
10530 116 Street, Edmonton AB
Everyone is encouraged to join Elsy's family to celebrate her life on Friday, July 6th, 2018 at 11 AM at Shiloh Baptist Church, 10727 114 Street NW, Edmonton.
Her zeal for life and love for people will be remembered by all who knew Elsy.