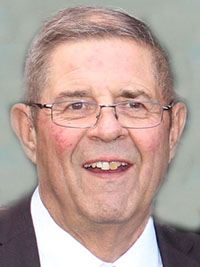 Eugene Smereka
With tearful hearts but embracing our cherished memories of a loving Husband, Dad and Gido, the family of Eugene Smereka announces his passing on February 26, 2021 at the age of 74.
Eugene will be greatly missed by his wife of 52 years, Linda; daughters Nicole Fluet (Paul) and Shawna Royer (Gilles); grandchildren Jamie & Alannah Dean, John & Gina Royer and Lyssa & Jayden Fluet; and his sister Diane Bourbeau (Hubert). He will also be fondly remembered by a large extended family and many good friends.
Eugene was predeceased by his parents Bill and Virginia Smereka and his nephew and godson Michael Bourbeau.
The family thanks you for sharing their sorrow. Your thoughtfulness and support are greatly appreciated. Thanks to staff at Leduc Hospital (Unit 22) and St. Joseph's Palliative Care unit. We are especially grateful for Dr. Rebecca Saunders' care and compassion.
Due to COVID restrictions, the family will make arrangements for a celebration of life at a later date when we can share hugs, tears and stories.
Memorial donations can be made in Eugene's name to Haying in the 30's or the Alberta Diabetes Foundation.