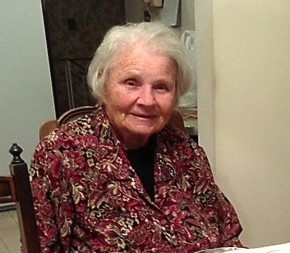 Eugenia Szklarz (nee: Woroniecka)
October 15, 1928
-
August 23, 2022
With fond memories, love and with deep, everlasting sorrow we announce the passing of our beloved Mother, Babcia, Pra babcia, Eugenia (Gienia) Szklarz at the age of 93 on August 23, 2022.
Eugenia comfortably lived her final couple of years in long term care and was quite content, finally being able to pursue her passion for art and drawing and crafts that she did not have time for previously in a busy life and looked forward to her son Julian's daily visits who also brought her newspapers and the little treats and delicacies she was particularly fond of.
She is survived by her two sons; Karol (Sylvia) and Julian (Oriana); Granddaughter Kristin Szklarz (Kris Dickie) and Great-granddaughters Annabelle and Novalyn; Sister Irene Mattuli (Vittorio-deceased); Nephews Arthur (deceased) and Perry Mattuli; Sister Halina Seifried (Chester-deceased); Nephews Christopher and Edward Seifried.
Eugenia was predeceased by her husband Jan Karol Szklarz of 65 years in 2014 and by her parents Julia and Michal Woroniecki.
Born in Molodeczno, Poland Eugenia Woroniecka was a young child at the start of World War II and like many Polish exiles of World War II her life story would be forever altered and put on a different trajectory with the deportation from Poland of her mother Julia and her three daughters to Siberia in 1941. The father Michal Woroniecki was instead imprisoned by the Soviets in Tobolsk. Mother and daughters were subjected to great and difficult hardships along the way and forced to work on a Siberian State farm with only Eugenia's mother to watch over them. Eugenia as a youth would experience a very tough and demanding time with tremendous challenges but it would shape and contribute to a life characterized by her great determinedness, resourcefulness, devotion to her religion and to never shy away from arduous work. What is remarkable after all the trauma of the war is that Eugenia kept her generous heart and never lost her desire to serve and give of herself to her family and friends, the Polish community and Holy Rosary Church.
Her father Michal was able to reunite with them at the end of 1941 and in 1942 joined the Polish Armed Forces and was able to deliver his family from Soviet captivity. The family made their way over time through Uzbekistan, Iran, Iraq and Palestine ultimately having found some semblance of security in the Holy Land which helped connect and shape her strong devotion to the Catholic Church. Eugenia attended school in Nazareth where she was able to visit all the Holy Sites there and around Bethlehem. She said this was one of the most pleasant times of her youth. The family eventually made their way to England where they settled in Herefordshire in 1947 at a Polish resettlement military camp for Polish Resettlement Corps and their families. There, Eugenia Woroniecka met and became engaged to her future husband Jan Szklarz (1st Polish Armoured Division) who was soon leaving for Edmonton. Eugenia and her family came to Edmonton in 1949 and Eugenia and Jan were married in October at Holy Rosary Church.
In Edmonton it was all about family and working hard. Her parents were farming in Cherhill and Jan's mother came from Poland to live with them to help care for Karol who was born in 1952 and Eugenia was working night shifts as she was now a licenced practical nurse at the Misericordia. Each of the three sisters were married and each had two sons and the families grew up together. Eugenia is remembered by nephew Chris Seifried as being motherly to all and incredibly fair and thoughtful in her dealings with all the boys.
She had a full life, had a tremendous family, many friends and good long time neighbours of over 47 years, she worked hard, travelled and indulged her passion for gardening throughout her life until it became too difficult for her physically and she lived out her last years in Touchmark extended care close to her son Julian. She was a woman of determination and strong conviction and we will remember her, respect her memory and just miss her.
Mass of Christian Burial
10:00 AM Thursday Sept 1st, 2022
Holy Rosary Catholic Church
11485 106 St, Edmonton, AB T5G 2P8
Interment at Holy Cross Cemetery
14611 Mark Messier Trail, Edmonton, AB T6V 1H4
Memorial Donations
Heart and Stroke Foundation
donorinfo@heartandstroke.ca
119 14 St NW #100, Calgary, AB T2N 1Z6