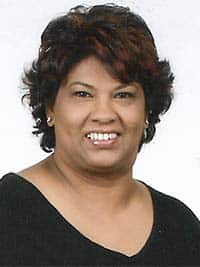 Eunice Priscilla Diaz-Khan
Eunice Priscilla Diaz-Khan, a loving and devoted daughter, sister, mother and friend who touched the lives of many, walked into the open arms of our Lord and Saviour on Sunday, April 26, 2020, at the age of 58. Eunice was born in San Fernando, Trinidad and was number 6 in a sibling line of 12. 
Eunice had a warm demeanor and always had a smile on her face. She continuously motivated and encouraged people around her, even while she was struggling with her own health complications. Eunice was a confident, caring, free-spirited woman. "I'm too blessed to be stressed," was something she would often say, and her positive attitude was proof of that. Although Eunice was not the most talented singer, it never stopped her from sharing her favourite gospels with everyone around. Her wonderful sense of humour and uplifting spirit stayed with her until the very end. 
Eunice was preceded in passing by her parents Rev. Cecil and Diana. She is survived by her three children, Sabrina (Lionel), Rex (Chelsea), and Rachel and only grandson Reuben. Her siblings Vern, Howard, Yvonne, Andy, Bobby, Johnny, Suzanne, Deborah, Clifton, Rosalie, and Wendy. Her in-laws Madeline, Wendy, Glenn, Chan, Angela, Joe, Kenny, Nirmala, Andrew, Jaideo and many nephews and nieces. Her legacy will live on through her family, who is and will always be very proud to have had her in their life. 
Memorial Donations 
Any donations may be made in Eunice's name to Brain Injury Canada at https://www.braininjurycanada.ca/donations/