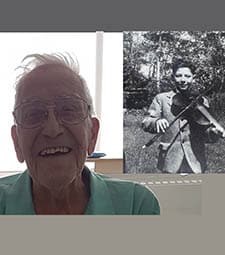 Felicien Jean LeBlanc
June 09, 1935 – July 23, 2018
It is with great sadness that our family announces the passing of Felicien (Phil) LeBlanc at the age of 83 years.
Phil will be lovingly remembered and dearly missed by his wife (Millie), children Kim and Michael, their immediate families, as well as many other family members and friends.
Phil was a quiet and caring husband, father and friend who had many talents, loved to play the fiddle and had many wonderful stories to tell from his life in Saskatchewan and Alberta. Phil was the youngest
from a large farming family in Domremy, Saskatchewan and he will be forever in our hearts.
He is predeceased by his father and mother, Hercule and Josephine, as well as his siblings Adelaide, Angele, Hortense, Etienne, Cyprien and Donald.
A small service in remembrance will be held on August 16, 2018 at 11:00 a.m. at Westlawn Memorial Gardens 16310 Stony Plain Road.