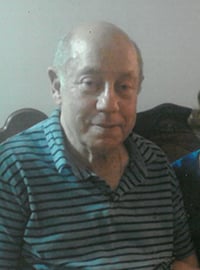 Fernando Silva
It is with deep sadness that we announce the passing of Fernando Silva on Monday, January 21, 2019 at the age of 79,
He was born in Lisbon, Portugal on January 1, 1940. Fernando spent his younger years in Portugal, married his childhood sweetheart Josefina at the age of 21.
His three children Ana, Carlos and Adilia were all born in Portugal. To provide a better life for his family they immigrated to Canada settling in Edmonton in 1979. Fernando was a hard working man, having many professions, auto body mechanic, ZCL Fibreglass repairman and numerous other occupations throughout his working career.
Retiring at age 65, he returned to work again until age 70. He loved to help his many friends with car repairs, his love of cars is evidenced by his vast collection of die cast cars proudly displayed in the family home.
Fernando's other interests included fishing,and hunting with a great passion for soccer both as a avid fan and former player. His favorite soccer team being Sporting.
Those who knew Fernando are aware of his love of homemade Portuguese food prepared by his wife Josefina and his love of McDonald's.
Left to cherish his memory is his loving and devoted wife of 55 years, Josefina, his three children, Ana, Carlos and Adilia; four grandsons Philip, Miguel, Daniel and Samuel; granddaughter Vanessa and great-granddaughter Leonor.
Fernando was an animal lover in particular his dogs Bala, Pantufa, Blake, Snoopy, Prince, Ariana and his latest Niki.
Celebration of Life
Saturday, January 26, 2019 at 10:00AM
Trinity Funeral Home Chapel
10530 116 St, Edmonton AB
Those wishing to pay their respects may do so prior to the service beginning at 9:00 a.m.
If desired, memorial donations may be made to the Royal Alexandra Hospital Foundation or to the Edmonton Humane Society.