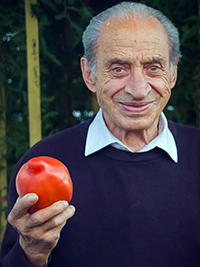 Francesco Pirozzo
Passed Away
March 29, 2021
January 1st, 1936 to March 29th, 2021
We are saddened that Francesco Pirozzo, succumbed to cancer at the Norwood Hospice Care, surrounded by daughters on March 29th, 2021. He fought a hard battle until the end. His family surrounded him with much love until his final moments.
Francesco is survived by his loving wife Maria of 59 years, daughters Evelina (David) Shea, Anita (Jose) Cunha, and Angela Pirozzo (Rodger), brothers Italo, Piero, Mario, sisters Lina, Maria, Rosetta, Giuseppina and Evelina, with their respective spouses, Sister in laws Rita Pagliuso and Teresa Petrucci, and their respective families.
He has left behind broken hearts in all of his grandchildren, Christopher (Andrea), Jordan (Rachel), Sandra (David) , Susanna (Al-Berto), Isabella (Joao), Thomas (Paula), Alex (Doralisa) and Justin (Hannah). Great Grandchildren Elizabeth, Lucas,, Afonso and Rafael.
His grandchildren were the smile that he woke up to every morning. He adored them to no ends.
We will always remember him for infectious laughter, his pride and joy of gardening and his friends and family all knew they could count on him for tips and seeds…. Enjoying numerous holidays with his family, his love of sports including his Edmonton Oilers, Edmonton Eskimos, Napoli Premier Soccer and above all his Italian Azzuri World Soccer team. You would catch him watching the soap operas with his wife every afternoon after retirement. He looked forward to his morning walks to Northgate Mall to have coffee with his best friends, something he missed dearly in his last months.
At 83 years of age knowing his time was limited with his family, he learned how to use Facebook and called them constantly on Messenger, be it Portugal, Italy, and at home. He always looked forward to his video chats as if they were next to him.
He will continue to guide us with his love, We will never forget his advice, his smile, his loyalty, his stubbornness, and mostly how happy he was when we were all together.
Cheers Papa.
Thank you to Grey Nuns Hospital, unit 43, as well as Norwood Hospice, for the devoted attention and caring nature to our father in his last weeks.
We would like to thank everyone for all your prayers, love, and support during this difficult time.
Public Visitation (please email Evelyne Pirozzo epirozzo@gmail.com to attend)
9:00AM - 10:00AM Tuesday April 6, 2021
St. Charles Catholic Church
17511 112 St NW, Edmonton, AB T5X 5X9
Mass of Christian Burial (Private with COVID restrictions in effect)
11:00AM Tuesday April 6, 2021
St. Charles Catholic Church
17511 112 St NW, Edmonton, AB T5X 5X9

Interment
St. Michael's Cemetery
Memorial Donations in Frank's Memory
Canadian Cancer Society
55 St Clair Avenue West, Suite 500
Toronto, Ontario M4V 2Y7
To view livestream: https://youtu.be/B3LijphUWqY