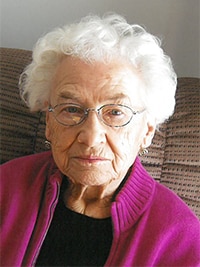 Freda Hetman
Freda Hetman was born April 3, 1923 to Theodore and Adolphine Schultz in Russia. The family emigrated to Canada in 1928, settling in the New' Sarepta area.
Freda was the eldest of three children (Robert & Meta). She attended the North Busenius School to grade 8. She married Wilhelm (Bill) Hetman May 1940 and lived in the village.
The following year they were blessed with the birth of their only child Shirley. In 1946 they built Hetmans General store operating it until 1975 when they decided to retire. A new home was needed, which Bill built. Much travelling followed.
Bill died in 1999 and Freda moved to Leduc in 2007. When her health declined, she moved to South Terrace (Edmonton) where she died peacefully November 9, 2018.
She leaves her loved ones, Shirley & Ken Adolph, granddaughter Tracy (Randy) Ferchoff, great-grandsons Derek & Joshua, sister Meta & Robert Grosz, nieces & nephews, Michele & Sandy & Nicole Ludwig.
Memorial Service
Saturday November 23, 2018  2:30PM
Zion Evangelical Missionary Church
5058 2 St S, New Sarepta, AB