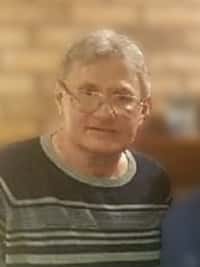 Geoffrey George Monson
It is with heavy hearts that we announce the loss of Geof, who passed away peacefully at his home on May 1, 2020. 
Geof was born on August 31,1958 and lived in Edmonton all of his life. He had a gentle heart, a great sense of humour and loved dogs (as they did him). 
Geof worked for many years in his father's tree and landscape business. He liked everything mechanical and electrical and loved nothing better than to "tinker" away in his father's shop or at his family's farm on Lac Ste Anne. His prized possession was his 1985 GMC pick-up truck which was passed down to him from his Dad. 
Geof leaves behind his mother, Jennie Monson, his sister, Rebecca Hole, and his sister-in-law, Cathie Monson, along with his nieces and nephews, Chris (Bethany) and their son Henry, Darcie and her daughters Maddy and Charlee, Nicole (Derek), Rachel, Ralph, Emily (Matt) and their son James, and Heather. 
Geof was predeceased by his father, George, his brother, Reg, and his brother-in-law, Ralph. 
Geof's family will miss him very much and will remember him in a private service in the summer.