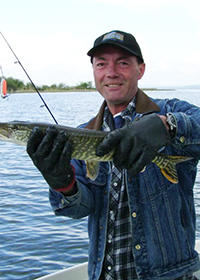 Geoffrey Vernon Smith
We are saddened to announce the sudden passing of our beloved brother Geoff Smith on June 16, 2020 at the age of 57. He will be missed by his brothers Bruce Smith (Janice), Jack Smith (Tammy), his sisters, Norma Chalmers and Jill Rowe (Steven) as well as his Godson Joel Langevin. Geoff was very close to Shannon Amero and Katrina Amero whom he loved like daughters. He also leaves behind to mourn his passing numerous nieces, nephews, cousins and too many friend to mention by name.
He is predeceased by parents Ron and Doris Smith, brother Jim Smith and sister Ronalee DaCosta .
A Celebration of Life will be held on Sunday, July 19, 2020 at the Old Timers Cabin, 9430 Scona Road NW, in Edmonton, Alberta at 1:00 pm. All are welcome.  Please RSVP to Jack Smith at jsmith66@shaw.ca if you plan to attend the service.