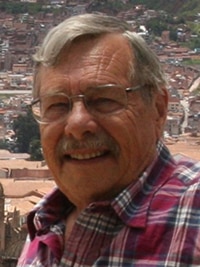 Gerald James Weber
Mr. Gerry Weber, age 78, passed away on the morning of  Saturday August 11, 2018 at Sturgeon General Hospital.  His family and friends  were by his side.
Gerry is survived by his children, Darrell (Wendy), Darcy, Debbi (Dan) his brother Art, and sister Pauline.  He also leaves behind five grandchildren and four great grandchildren.  Gerry was predeceased by his mother Pauline, father Alex, second mom Irma and brother Dewayne.
For the past twenty years he worked at Icefield Helicopter Tours as ground operations manager and enjoyed traveling and photographing the world.
Celebration of Life
Saturday August 25, 2018, 2:00PM
Trinity Funeral Home Chapel
10530 116 St, Edmonton AB