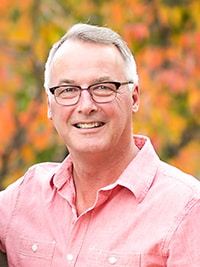 Glenn Brown
September 24, 1954 - November 08, 2018
Quickly and quietly came the call, your sudden departure shocked us all-
We who have lost do dwell, for the loss of our loved one without a farewell...
On what should have been just another ordinary work day we lost one of life's very best.  In the shadow of sorrow, Glenn leaves to mourn his loving life partner Corine Ferguson and his two children Anne & Bill Brown all of Edmonton, AB the place he called "home" the past 43 years.  He also leaves to mourn his mother Neta Brown and brothers; Royden (Lois) Brown, Murray Brown, and Craig Brown in addition to numerous nieces, nephews and one grand nephew all of Thunder Bay, ON where he was born and raised. He was predeceased by his sister Lynn-Ann (Brown) Sippola, and his father John Brown, both in 2001.
In the true spirit of life growing up in northern Ontario, Glenn developed a life-long love for hiking, canoeing and portage adventures which began as a member of the Lakeview High School "Outers."  Prior to traveling west to make his eventual home in Alberta, his parents gifted him with a 17' Allumacraft silver canoe which continued to fuel a passion for dipping his paddle in the North Saskatchewan, various lakes and rivers throughout Alberta.  Given this, it seemed most enchanting that Glenn and Corine's last 6 years together was sharing a home with breathtaking views overlooking the Edmonton river valley.  Among his many retirement aspirations- Glenn hoped to mount one last great portage adventure across the US border, canoeing the Mississippi river all the way to New Orleans!
Professionally Glenn held many designations including Bachelor of Arts and Physical Recreation degrees granted from Lakehead University ON, and was eventually designated as a Certified Professional Account which guided his life's work and career.  In this capacity he worked for various levels of government including Strathcona County, City of Edmonton and in the latter part of his career as a Director for Justice & Solicitor General with the Government of Alberta. While with G.O.A. Glenn also volunteered as Treasurer in support of the United Way and in giving of his time to the County Clothes Line Foundation in the community of Sherwood Park, Alberta.
On the list of personal accomplishments, Glenn enjoyed viewing life from behind the lens of a camera and dappling with photography, traveling and spending summers and time with his mom, brothers & extended family in Thunder Bay, cooking & hosting parties at the "Brown-ie manor" for which Corine & Glenn became well known, being active in supporting ALS Walks in Thunder Bay & Edmonton and singing & playing his "Black Beauty" guitar (a Christmas gift from Corine) at "open mic nights" around town.  By far however; Glenn's proudest role was that of being a dad to his two children Anne and Bill- quoting a line from his father- "it's wonderful when one's children are also one's very best friends."  In this final chapter of life, Glenn also cherished the love story that was the relationship he and Corine shared. Together they had a special kind of magic and love for life and each other that only further enriched as time went on.
A Celebration of Life will be held December 14, in Edmonton at 1:00 p.m. at the Alfred Savage Centre, at 13909 Fox Dr NW, Edmonton, AB T6H 4P3 supported via a televised "live feed" to Thunder Bay for those interested in attending with the family at St. Joseph's Hospital in Ontario.
In lieu of flowers, donations may be made to the Heart & Stroke Foundation (heartandstroke.ca) OR in commemorating Glenn's love of the outdoors by planting a tree in his memory either in Alberta or Ontario via the Living Tribute organization. (alivingtribute.ca).