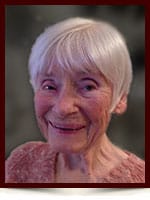 Gloria Kathryn Haughn
Gloria Kathryn Haughn
September 19, 1931 - July 22, 2014
Gloria passed away at the University of Alberta where she received excellent compassionate care after a sudden stroke 2 days prior. Gloria was born in Ingramport Nova Scotia and spent her married life in Dartmouth, but moved to Edmonton in 2004 for family reason.
Gloria is preceded in death by her husband George Bernard "Buddy" Haughn to who she was married 49 years, her sister Rita and half brother Leonard. She is survived by her son Peter Haughn, daughter Lynn Gilmour and her husband Barry, half siblings Leona, Madeline and Shirley and her grandchildren Laura, Gregory and his wife Natalie.
Gloria will be forever remembered for her selfless devotion to family, her sense of humor and her eternal optimism in the face of adversity. In the midst of every storm, Gloria would always look for the rainbow ahead.
A Memorial Service will be held at Trinity Funeral Home, 12134 - 66 Street, Edmonton, Alberta T5B 1J8 on Saturday, August 2, 2014 at 10:00 a.m. Her final resting place next to her late husband Buddy in Upper Blue Rocks Cemetery at a later date.
In recognition of Gloria's love and compassion for animals. In lieu of flowers donations can be made to Second Chance Animal Rescue of Edmonton (SCARS) in her name.
Box 3045
Athabaska, AB T9S 2B9