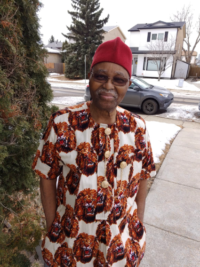 Godwin Onuonyekachukwu Odina
April 30, 1942
-
August 31, 2021
Major Godwin Onuonyekachukwu Odina, aged 79, left to be with the Lord on August 31, 2021. His passing will leave a hole in the hearts of those who knew and loved him, especially his wife of twenty-eight years, Jeannette Austin-Odina; his children Nkechi Odina-Seale (Steven Seale) and Ngozi Odina Imomoh (Michael Imomoh); step children Andy Austin, Nyanza Austin-Bishop (Andrew Bishop), Nzingha Austin, and Imhotep Austin, who predeceased him in 2010.
Godwin was born on April 30, 1942 to parents Josiah and Esther Odina in Umuoga Village, Obosi in Enugu State, present day Nigeria. He was raised in a large extended family with multiple siblings. He was predeceased by his sister, Dr. Eunice Nwobosi and survived by Engr.
Isaac Odina (Ifeoma Odina), Sampson Odina, Sunny Odina and Michael Odina.
One of Godwin's proudest accomplishments was being an army veteran of the Biafran war, in which he received the distinction of Major. As a devout Anglican, he believed that surviving the war was a miracle.
He first built a life after the war in Sheffield, United Kingdom with his then wife, Phoebe Chinwe Okafur. When he moved to Canada, he used the time given to him, and the opportunity of a new life, to work as an accountant at a bank in Smokey Lake and a Property Management Firm in Edmonton. He later created a cleaning company, Meticulous Cleaners, and contracted its services to The Edmonton Journal and many Dairy Queens. Early on, he volunteered at All Saints Anglican Cathedral, first as a hospital visitor, followed by an envelope secretary, an usher, a reader, and finally as part of the healing prayer ministry.
When he was first diagnosed with cancer in 2010, he saw the importance of being able to provide cancer patients with a safe ride to the hospital and, upon retirement, volunteered with the Cancer Volunteer Drivers' Program. He also was involved in his wife's volunteer activities: The CCACH Tutoring Program and AFROQUIZ. He stayed connected to the Nigerian community by being a part of the Nigerian Association and later being an Elder of the Igbo Cultural Association of Edmonton.
Godwin was proud of his nieces and nephews, many of whom live outside of Edmonton: Dr. Ifeanyi Odina, Dr. Chinedu Odina, Dr.Nneka Odina, Ifeoma Odina, Ikenna Odina, Gozie Odina, Rev. Nwora Odina, Mrs. Ngozi Okonkwo, Mrs. Chioma Emefiesi, Mrs. Chidimma Epuechi, Mr. Nnanna Odina, Mr. Ifechukwu Odina, Mr. Nwachukwu Odina, Uche Nwobosi, Chuma Nwobosi, Olga Murray, Obi Nwobosi, and Adaora Nwokedi.
However, his greatest love was for his grandchildren: Kamani, Khayla, Samuel, Ekenne, Nailah, Aleena, Anthony, Alexander, Khalil and Blake.
Godwin was a simple and kind hearted man who was a homebody. He loved good food, especially the Nigerian dish utala, gardening, playing word games such as Scrabble, dancing, watching the news and teasing his wife and family. A good story would always elicit a full-bodied laugh. Although he will be missed by all, we know that we will continue to hear the echoes of his laughter from heaven.
Funeral Details
The funeral will be limited to family members only as numbers are restricted due to COVID. However, there will be a digital live streaming of the funeral on YouTube. The link to the funeral and a slideshow is:
The viewing of the body will occur at Trinity Funeral Home (10530-116 ST SW) from 6pm-9pm on Friday, September 10th. There will be a limit of 20 people within the building at one time. Please be sure to wear a mask.