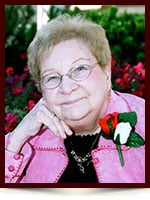 Grace Katherine Parslow (Moffatt)
Grace passed away peacefully in her sleep in the early hours of Sunday, June 5, 2016. She leaves behind her children Sandra (Ken) Yost, Daughter-in- law Marian Parslow, Glen Parslow, Kathy (Bruce) Douglas, Bill (Marilyn) Parslow. Her Grandchildren: Rick (Jana) Yost, Greg (Trish) Yost, Scott (Biddy) Douglas, Christina (Rich) Duggan, Christopher (Laura) Parslow, Jason (Heather) Parslow, Jennifer (Greg) Duggan, Michael Parslow. Her precious Great Grandchildren: Lauren and Blake Yost, Nathan and Ainsley Yost, Thomas and Amelia Douglas, Aylin and Claire Duggan, Brenna and Clara Parslow and Alexis Parslow. Grace leaves to mourn her sister Anne (Brian) Robb.
Grace was proceeded by the love of her life George (Buzz) in 1991 and son Jim in 2013.
Celebration of Life
Wednesday June 9, 2016 10:00AM
Trinity Funeral Home
10530 116 Street, Edmonton Alberta
In lieu of flowers memorial donations may be made to the Alberta Cancer Foundation, the Alberta Heart and Stroke Foundation or charity of one's choice.