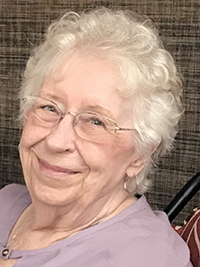 Gweneth Keetch Campbell (nee Dempster)
Passed Away
October 13, 2021
Surrounded by her loving family, Gwen Campbell of Edmonton passed away peacefully on October 13, 2021 at the age of 92 years.
Left to cherish her memory is her son Bill (Dianne) Campbell and her daughter Nancy (Paul) Amaral; four grandchildren: Brittany Campbell, Jordan Amaral, Ryan Amaral and Amanda Amaral as well other relatives and many dear friends. She was predeceased by her husband Rox in 2008.
Mom was born in Portage La Prairie, Manitoba on September 29th, 1929 to parents Bill and Olive Dempster. In 1950, she graduated from Brandon College with a Bachelor of Arts Degree in Social Work. That same year, she started her career as a writer at the Star Phoenix in Saskatoon. She joined the Epsilon Chapter, Beta Sigma Phi Sorority and eventually became the Vice President and President. Wanting to further her career, she moved to Calgary in 1953 and began to work for The Albertan (now known as the Calgary Sun). One year later, she moved to Edmonton and became a journalist at the Edmonton Journal. Gwen ended her journalism career shortly after her son Bill was born.
When Mom was three years old, she attended her future husband Rox Campbell's sixth birthday party. Mom and Dad's parents lived very close to each other in Portage and were best friends – and they remained so for the rest of their lives. While growing up, Gwen and Rox kept in touch and dated periodically in their early twenties. However, the relationship started to get serious in the mid 1950's and they ultimately got married in Saskatoon on September 29th, 1956. Shortly after, they bought a house in Edmonton and three years later started a family.
She always had an interest in being an entrepreneur and decided to set up her first business in the basement of her home teaching ceramics. Dad was kept busy making greenware from molds and firing the finished pieces for students in their kiln. In 1967, Mom and Dad bought their first tent trailer to use on vacations. Soon after, they bought more trailers and turned it into a trailer rental and sales business. Over the five-year period they ran the summer rental business, they owned as many as 25 tent trailers at one time.
With the profits from the ceramic and trailer businesses, in 1972 they bought a lake lot on Lake Isle west of Edmonton and built a cottage and double garage. Our family was very fortunate to be able to use the cottage for relaxing, waterskiing, sailing, and fishing until 2010 when it was sold.
Mom had a number of passions. One of them was reading and continuous learning. Over the years, she read thousands of books and magazines for entertainment and to keep herself informed. She loved the arts - shopping for art pieces and attending the Citadel Theatre with Dad. She loved travelling and learning from other cultures. Mom and Dad travelled extensively with their family across parts of the USA and Canada. They also travelled internationally with family and friends to the United Kingdom, Europe, Thailand, Malaysia, Hong Kong, China, Morocco and Egypt. Mom was most passionate about spending time with her family, especially her grandchildren. She enjoyed playing games, making crafts, reading books, and watching movies when they were young, and dinner dates when they got older.
Mom was a 'larger than life' person who knew what she wanted and lived her life her way. She was fortunate to be able to live 92 years in her home up to the last day before her passing.
She passed away with her son and daughter by her side at the Royal Alexandra Hospital in Edmonton on October 13th, 2021. The family wishes to sincerely thank the doctors, nurses and staff who took care of her. They were truly exceptional.
A private (family and invited guests only) Celebration of Life will be held at 2:00PM Thursday October 21, 2021 at the Trinity Funeral Chapel (10530-116 Street) in Edmonton, Alberta.