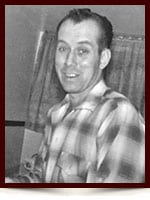 Harold Dombrosky
Harold Dombrosky, age 77, died January 15, 2016 in his home after a long illness. He was born November 23,1938, in Radway, Alberta the son of Faustin and Kustushia Dombrosky.
He is survived by two daughters and one son: Colleen Noppers, Gwen Timoteo, Dwayne Dombrosky, all of Edmonton, Alberta and; 7 grandchildren and 5 great grandchildren; sister Florence Shandro and brother Ernie Dombrosky.
He was preceded in death by his daughter Cheryl Dombrosky, his parents and eleven siblings.
At Harold's request, cremation has taken place, with a private family memorial to happen at a later date.
God saw you getting weary,
A cure was not to be,
He put His arms around you,
And whispered: Come to Me.