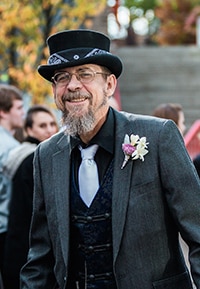 Harold (Harry) Frederick Bauer
Harold (Harry) Frederick Bauer passed away on Nov. 8, 2019 at the Grandview Care Centre in Edmonton, Alberta surrounded by his family, at 57 years of age.
Harry was born on June 24, 1962 in Calgary, Alberta. He loved to spend his summers in Fairmont, British Columbia and enjoyed hiking around the backcountry, putting his boy scout skills to good use. In 1992 he married and moved to Burnaby, later settling in Edmonton with his wife, Kathy.
He possessed the soul of a true artist, and will be most remembered for his creative talent and fierce individuality. Harry loved collecting just about anything that grabbed his fascination, and throughout his life amassed a treasure trove of vintage weapons (swords were his favourite), steampunk memorabilia, comic books, and incredibly unique hats, among countless other items. He also produced an impressive body of artwork, but—being a man of great compassion and generosity—never kept the best pieces for himself.
Nothing made Harry feel more pride and joy, though, than his five children, Ryley, Brandy, Jadey, Brody, and Remmy, his three children-in-law Colton, Sam, and Mike, and many of their closest friends who he considered his "adopted children." Above all else, he is celebrated for being a loving, patient and wise dad, who acted as a community father and enriched his kids' lives beyond measure.
He was pre-deceased by his father, Arthur and step-father, Erich. In addition to his children, he is survived by his mother, Erika, brother Peter, sister-in-law Cathy, and nephews Russell and Daniel.
Harry passed knowing his children are well taken care of, and leaves the world a more beautiful place than he found it.