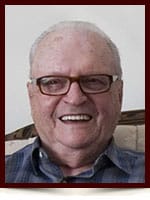 Harold Walton Fletcher
March 14, 1922 - February 10, 2014
HAROLD WALTON FLETCHER passed away peacefully on February 10, 2014 at the grand age of 91 years, after a lengthy illness. Harold always took pride in doing the best job; from his years in the Navy, to his long career with Woodward's. He will forever be remembered as an avid gardener, sports enthusiast and handyman.
Harold's life will be lovingly treasured and his loss deeply mourned by his family: daughters Linda Rushworth and Georgia(David) Playdon; son Gary(Maureen) Fletcher; grandchildren Marnie(Reg) Boulet, Sean(Lee-ann) Fletcher, Carly Fletcher and Travis Fletcher; and his 5 great grandsons Noah, Connor, and Wyatt Fletcher, Sam and Eric Boulet; sister Bernice; brother Bob; and many relatives and friends.
Harold was predeceased by his loving wife of 64 years, Margaret; beloved daughter Janice; parents Cyril and Ellen Fletcher; sisters Dot and Marj; and brothers George and Bill. Harold had requested that no funeral service be held for him, so instead we ask that those who knew him remember him in their hearts, thoughts and prayers. In lieu of flowers, donations may be made to the Alberta Heart and Stroke Foundation.