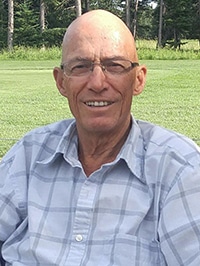 Harvey Emerick Prenevost
June 9, 1946 – April 28, 2018
It is with great sadness and heavy hearts, that the family of Harvey Emerick Prenevost announce his peaceful passing surrounded by family and loved ones on April 28, 2018 at the age of 71 after his courageous battle with Leukemia over the last 6 years.
He will be greatly missed by his wife Doris, his siblings John (Claire), Julie (Bill), his daughters Angie (Troy) and Carrie (Frank); grandchildren Kade (Lisa), Medena, Daenen, Connor, and Trinity and one great-grandchild, Sophia, and many nieces and nephews. Also missed by his wife's child Joan (Brian) and grandchildren, Carter and Alex and many other relatives and friends.
Harvey was predeceased by his parents Albert and Blanche, and sisters Lorraine and Pauline.
Harvey was born on June 9, 1946 in St. Paul, Alberta, the youngest of 5 children. He attended school at Saint-Jean in Edmonton and when he was 17 years old he moved to Brampton, Ontario to live with his brother John and sister-in-law Claire. He attended NAIT to pursue his career to become an electrician and then became a Master Electrician. After working for a few different companies, he then worked for Triad Electric for many years and in 1992 he purchased the company. As the owner he dedicated many hard working hours and took pride in all that he did. In 2006 he finally made the difficult decision to retire and sell his company. Travelling with Doris became his new passion, seeing many wonders of the world and ventured to places many people only view in pictures. He was a daredevil and always willing to try the extreme adventures such as bungee jumping, Zip lining, skydiving and parasailing. If he wasn't travelling he was golfing or doing both. He escaped the long cold winters of Edmonton by becoming another Albertan snowbird in Arizona. He loved the heat, the socializing with many great friends, and the ability to golf every day. He enjoyed camping, fishing and spending quality time with his family. No matter where he was or who he was with, he always added an element of fun by horsing around and being a kid at heart. Harvey's life touched many people and he will be missed by all.
A Celebration of Life will be held on Saturday, May 5, 2018 at 3:00 p.m. at North Pointe Community Church 14025-167 Ave NW, Edmonton, Alberta.
In lieu of flowers, if family and friends wish, a memorial donation in Harvey's honour may be made to the Canadian Blood Services in the form of a monetary or blood donation as Harvey received numerous bags of blood over the years to extend his quality of life.
Please click on the following link to donate:
http://give.blood.ca/site/TR/Do_It_Yourself_Fundraising/General?px=1022118&pg=personal&fr_id=1050
The family wishes to extend their sincere gratitude to the Hematology department and the Outpatients department at the University of Alberta Hospital for their support, care and friendly environment and Dr. Taparia, the Hemotologist for going above and beyond which allowed him to continue to travel until March 2018. Also a special thank you to Dr. Neuls and the Palliative Homecare Team which allowed him to fulfill his wishes by staying at home and being surrounded with love.