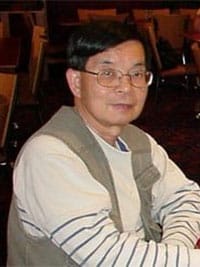 Herbert Hin-Bun Leung 梁顯彬
Herbert passed away on January 8, 2021 at age 84 in Sturgeon Community Hospital. He was born in the Guangdong region of China and survived the Japanese occupation of WWII, which ended when he was less than 9 years old. He studied at Hong Kong Baptist College (now HKBU) and became a social worker with the Foster Parents Plan (now Plan International) to improve the lives of children. In 1973, he immigrated to Canada with wife Cecilia Sut-Wa Tam and a baby boy. He became a cook while she became a seamstress at GWG and later a night shift supervisor at KFC.
Herbert's first cooking job was close to his roots as a social worker: at Hope Mission's single men's hostel, where the Herb Jamieson Centre now stands. Later on, he cooked at Alberta Hospital Edmonton, serving hundreds of meals every day. Known to his co-workers as "Herbie", he was well liked. After the passing of Cecilia in 1986, he continued to raise three children (aged 15, 11, and 9 at the time) as a dedicated and tireless single father.
Herbert was a man of letters, a scholar of literature, and his core values are reflected in the Chinese names of his children. The root 雅 means sophisticated, polished, elegant. Paired with 智, 禮, 頌, he chose sophisticated wisdom, polished courtesy, and elegant song of praise (ode). Perhaps due to working with broken families, his motto was 以和為貴 or "harmony is most precious".
Herbert enjoyed photography and made black and white prints in the bathroom, with an enlarger on the counter and trays of chemicals in the tub. Some of his favourite subjects were flowers, landscape, and of course his family. He was a member of the Photographic Arts Society of Alberta, and some of his photographs were featured as part of an exhibit at the Royal Alberta Museum.
Herbert also practiced Chinese calligraphy with ink, brushes, and rolls of paper on the dining table. He made his own spice mixes for marinating and seasoning meats, and he decorated cakes with carved fruits and piped icing.
Herbert was predeceased by his wife Cecilia 譚雪華. He is survived by his children Archie 雅智 (Quan 洪麗君), Alan 雅禮 (Patricia 梁貞盈), Joan 雅頌, and his grandchildren Sabrina 雪蘭, Jada 雪蓮, Melissa 嘉欣, Justin 正, and Skylar 華健.
Flowers will be arranged by Arts & Florist or, in lieu of flowers, memorial donations can be made to Parkinson Canada.
Those wishing to pay their respects may do so at a public viewing on Friday, January 15 from 6:00 p.m. to 7:00 p.m. MST at Trinity Funeral Home (10530-116 ST NW Edmonton, AB T5H3L7). Please note that due to the ongoing state of public health emergency, restrictions may apply.
Following the viewing, a private family funeral rite will be celebrated at 8:00 p.m. to 9:00 p.m. MST with live streaming Funeral Service of 梁顯彬 Herbert Hin Bun Leung. Herbert will be laid to rest at Beechmount Cemetery on Saturday, January 16 with only family and pallbearers in attendance.
The Leung family would like to thank all health care workers for their compassion and humanity in the face of crushing pressure during this pandemic. In particular, we wish to recognize Steve (nurse practitioner) and Maria (registered nurse) at the Sturgeon Community Hospital.