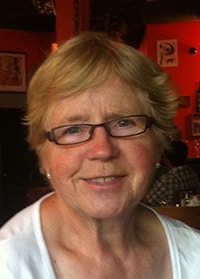 Hilde Rausch
With deep thankfulness for her life we announce with sadness that Hilde Rausch passed away peacefully in Edmonton with her three children and granddaughter at her side on December 11, 2018.
She was born in Germany on August 23, 1946, a beloved daughter of Eduard and Berta Scherer.
She is survived by: son Mark and daughter-in-law Michelle, and their children Ella and Charlie; son Michael; daughter Stefanie and son-in-law Michael, and their child Sienna; sisters Erna, Lisa and Ingrid (Sjoert); and brother Richard (Edelgard). She was predeceased by brother Erich, sister Wilma, and brothers-in-law Dieter and Henry.
Her family and her faith were of upmost importance to her. A lover of nature who enjoyed spending time in her garden, the long-time grade four teacher in Lethbridge touched the lives of many students and people in the community with her warmth, generosity, service to others, and sincerity.
In lieu of flowers, please donate to Hilde's favourite charity, Lutheran World Relief, and/or give the gift of blood; the family will be forever grateful for the countless transfusions that sustained Hilde in her final years.
Funeral Service
12:30PM Thursday December 20, 2018
Trinity Lutheran Church
10014 81 Avenue, Edmonton
Interment
Trinity Lutheran Cemetery
9808 12 Avenue, Edmonton