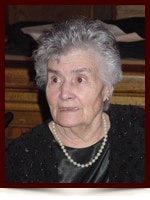 Hortence DaSilva Almeida
June 23, 1927 - January 15, 2011
On January 15, 2011 Hortence Almeida of Sturgeon County, AB passed away peacefully at the age of 83 years.
Left to cherish her memory is her loving daughter, Rosaria (Jose) Inacio; four grandchildren: Sandi (Miguel) Lopes, Anita (Chris) Yaehne, Melissa and Daniel; three great-grandchildren: Anthonie, Zacharie and Lucas as well as numerous relatives and dear friends. She was predeceased by her husband Joaquim and three brothers: Emidio, Joaquim and Francisco.
Reverend Marinaldo Batista will celebrate a Mass of Christian Burial on Wednesday January 19, 2011 at 1:30PM at Our Lady of Fatima Portuguese Parish. Entombment will follow at Holy Cross Mausoleum.
Funeral Service:
1:30PM Wednesday January 19, 2011 - Our Lady of Fatima Parish
Address:
12311-55 Street
Edmonton, AB
Cemetery:
Holy Cross Mausoleum