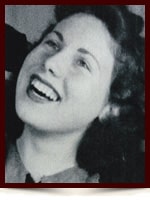 Ilde Savioli
September 18, 1924 - October 4, 2012
On October 4, 2012 Ilde Savioli of Edmonton, formerly of Arezzo, Tuscany, Italy passed away peacefully at the age of 88 years.
Left to cherish her memory are her two loving daughters, Mirella (Robert) Gibeau and Loretta (Bruce) Belliveau; four grandchildren: Vanessa, Alex, Brennan and Jarrett; sister-in-law Elena Roncucci as well as other relatives and many dear friends. She was predeceased by her husband Lorenzo in 1984.
The last surviving child of Narcissa and Emilio Roncucci has passed away. Ilde had a love of opera, film and all things beautiful. She was born and raised near Florence, Italy until she emigrated to Canada at the age of thirty two.
Mass of Christian Burial
Tuesday April October 9, 2012 at 2:00PM
Santa Maria Goretti Parish
9110-110 Avenue Edmonton, AB
Interment
Holy Cross Cemetery