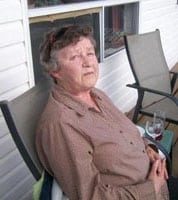 Ingrid Schick
On October 7, 2020, our beloved "Ingie" passed away peacefully, surrounded in love.
Left to cherish her memory is her husband and best friend, Jack, her children:  son Larry and daughter-in-law, Shelley, son David, daughter Debbie and son-in-law, Calvin, her grandchildren (and pride and joy) Jordan and Danielle, sister Annette (Larry, Kurt and Rob) and brother John (Anni), along with her many extended family members and close friends.
Mom enjoyed life's simple pleasures - coffee and conversation and quiet moments with the love of her life, Jack, spending time with her kids, grandkids, family and friends, caring for her flowers and watching them grow and baking – to name a few.
 She always appreciated the little things in life.
A heart so full of love and laughter, she loved deeply and for those of us fortunate enough, we will be forever blessed with that love.
"Whoever you hold in the heart of you
Is forever and always a part of you"
- Unknown