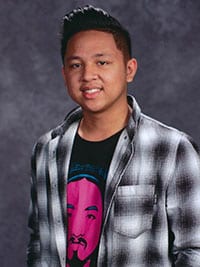 Jack Israel Fabros
It is with great sadness that we announce the passing of Jack Israel Fabros of Fort McMurray, AB on February 10, 2021 at the age of 20 years.
Jack was born and raised in the Philippines to Perly and Mar Fabros. He, together with his dad and sister, came over to Canada in 2015 to join his mom for good. He is the second child and only son. He attended high school in Holy Trinity High School and graduated in 2019. He was pursuing his Power Engineering Education in Keyano College.
Jack's passing left so much pain to his parents Perly and Mar Fabros; to his sister Cindy and brother in law Anderson. He is also well loved by his aunts, uncles and cousins back home in the Philippines. Here in Canada he was also loved by his titas and titos (friends of mom and dad).
Jack is dedicated servant of God, he was a Music Team member of McMurray Gospel Assembly and used to be a bass player in Jesus Is Lord Church. His interest in music improved his craft in playing bass, acoustic and electric guitar, ukulele, violin and at the time of his passing he was mastering piano.
He loved biking, he was a member of local cycling club in Fort McMurray and had trail biking's all over Fort McMurray. People loved his smile, and his good character. He was kind, friendly and caring. He was described as adorable, sweet and very fun to be with. He has so much laughter and so much energy whenever when he was around with friends., All the time he leave soft spot to the hearts of people whom he touched through his friendship.
Jack will always be remembered as kind supportive and responsible individual.