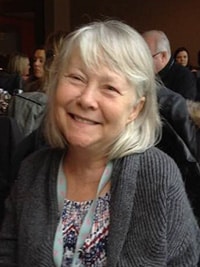 Jackie Marie Anne Lavigne
Jackie Marie Anne Lavigne, passed on March 5th at 3:05 p.m. 2018, after a brave battle with ovarian cancer.
Born in Montreal on February 5th, 1955 to Alice (nee Fagnano) and Maurice Lavigne.  Survived by her daughter Stephanie (Hans), three grandchildren Sean, Lana and Kayla, her mother Alice, and her two brothers Bobby, and Mike (Grace, David, Susan).
Diagnosed with type 1 diabetes at a very young age. Later she was told that she may never have children due to the risks to her health;  Despite this, she gave birth to a daughter in Montreal. Jackie lived most of her life in Montreal where she volunteered in her daughter's elementary schools, and then studied social work and family counselling at Concordia University.
She moved to Edmonton over 18 years ago before the arrival of her first grandchild, but she was there to greet each one when they were born in Montreal. In Edmonton she worked for the Government of Alberta in the IQAS department, where she met some of her dearest friends and colleagues.
Jackie was a loving mother, grandmother, daughter, sister and friend.  She always remained strong and supportive, and always had good advice to offer everyone in times of need.  Anyone who knew Jackie remembers her for her passion, determination, and her childlike love for the Marvel superheroes and the supernatural.  One of Jackie's professors in University gave her a compliment that she mentioned was a favourite of hers; While the professor was handing back papers to the class, she stopped at Jackie's desk, got the attention of the class and said, "Jackie can start a riot in an empty room". She is loved, she is sadly missed and will never be forgotten.
Memorial Service
10:30AM Saturday March 24, 2018
Unitarian Church of Edmonton
10804-119 Street NW Edmonton, AB
We request your presence for Jackie's memorial service, which will include a wiccan send-off ceremony, some readings and a few short words in her honour. Please join us in remembering her life.Coffee, tea and light snacks will be provided.
Jackie's favourite flowers are daisies, or a donation to Ovarian Cancer Research in Jackie Lavigne's name is greatly appreciated:  http://www.ovariancanada.org