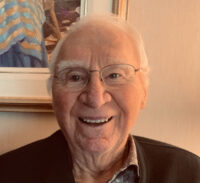 James Alfred Cox
April 19, 1925
-
May 4, 2022
It is with sadness and gratefulness for a life well lived, that the family of James Cox announce his peaceful passing at 97 years after a journey with dementia. He is survived by Lois, his loving wife of 70 years; children Shirley (Ken) and Ron (Marilyn); grandchildren Rob (Marie), Tim, Laura, Jeff (Jaana), Andrea, Brad (Jill), Susan and great- grandchildren Tom, Alice, Ella, Alicia and Britta. Jim was predeceased by his son, Stuart, in 2019.
Jim grew up on a farm near Rosetown, SK, during the depression of the 1930's and served in the Royal Canadian Navy from 1943-1945. He graduated with a B.A .and L.L.B.  from the University of Saskatchewan in 1952 and enjoyed "calling his own shots" in independent legal practice for over 50 years.
Jim lived an adventurous and full life. He was devoted to his family, enriched by wonderful friendships, and enjoyed a wide variety of interests including skiing (starting at age 48), attending Edmonton Symphony concerts, duck- hunting, and playing golf and bridge at the Royal Mayfair Golf Club for many years. He treasured family holidays, none more than house-boating on Shuswap Lake. He was a consummate host, avid reader of current events and enjoyed discussing politics at every opportunity. 
Jim quietly reached out with compassion to people he knew were struggling, no matter the issue. He served on several boards and associations including the YWCA and YMCA, and was honoured to be on the board of the Royal Alexandra Hospital from 1967-1977, the latter 2 years as Chairman. When his son, Stuart, was diagnosed with a hearing handicap as a result of complications of red measles, Jim reached out to his entire network to seek educational opportunities for Stu. He was a tireless advocate for resources to promote oral education (speech and lip-reading) for hearing-handicapped children. He was the founding President of the Hearing-Handicapped Association of Edmonton in 1960, and continued to serve on the executive until 1969. 
We want to express our thanks and gratitude to Bayshore caregivers (Theresa, Reka, Joseph and others) and the Choice program for their exemplary care and support for several years, as well as the Good Samaritan Care Centre for their kind, compassionate care in the past year.
A celebration of the life of James Cox will be held at the U of A Faculty Club (Saskatchewan Room) 11435 Saskatchewan Drive, Edmonton, AB on Saturday,  May 21, 2022 at 11:00 am. Lunch buffet to follow. Flowers are gratefully declined. If friends so desire, a donation to the Salvation Army or charity of your choice would be appreciated.