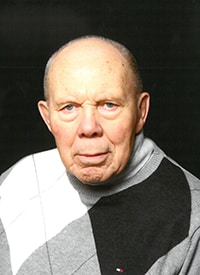 James (Curly) Freeman Coultes
Passed away November 10, 2019 at the age of 80.
Jim was the loving husband of Sheryl and
loving father of Renee and Douglas.
Proud grandfather "Pa" of Shawn
and Sarah.  Jim was the eldest of
6 children: Ken (deceased) husband of Linda
Watkins, Doug Coultes, Ruth (Neil) Olson (deceased), Doris Coultes and Grant Coultes (deceased).  He
was predeceased by his parents Norman and
Mary Coultes.  He will be fondly remembered by several nieces and nephews.
Jim was born and grew up in Wingham, Ontario.  He had many good memories of growing up on the family farm.
He attended Agricultural College in Guelph, Ontario 1959 to 1961. Jim was very active in college life being a member of several clubs and sports teams, which included being on the Associate Judging Team, Animal Husbandry Club, Agronomy Club, Hockey, Football, Soccer and Softball teams.
Jim worked with his Dad on the family farm until 1967 when he left to work with Ontario Corrections as a Farm Manager and prison guard. He moved to Alberta in 1972 and worked at the Grand Prairie Dairy for a short time before starting with Shaw Pipe Ltd in Calgary in 1973.  Jim eventually transferred to Edmonton where he became supervisor.  He worked for Shaw Pipe Ltd for 27 years until he retired in 2000. His work at Shaw Pipe Ltd gave him the opportunity to travel to Australia, Surrey, BC and the United States.  In retirement he had his "dream job" at Countryside Golf Course.
Jim participated in several sports and also coached young people in hockey and softball. From a young age, Jim was particularly interested in softball and became a pitcher.  He pitched softball until he was 50 years old being part of teams that won several championships.
Jim loved family, softball and golf.
Jim was a man of faith and strong convictions with honesty, steadfastness, integrity, consideration for others, and kindness being at the centre of who he was.
A celebration of Jim's life will be held at
Christ's Church of the Meadows,
3604 76 Ave NW, Edmonton
Wednesday November 27, 2019 at 1:00 PM.
In lieu of flowers, memorial donation can be made to
Christ's Church of the Meadows in Edmonton,
or a charity of your choice.