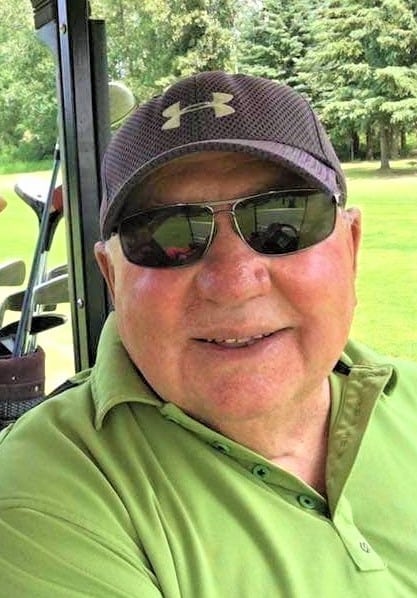 James Dale Martin
August 23, 1945 - March 7, 2020
It is with the heaviest of hearts that we announce the passing of James Dale Martin (Jim). Jim passed away peacefully with loved ones at his side, at the Royal Alexandra hospital, after a short and courageous battle with lung cancer. Jim, lifetime resident of Woking, Alberta, was a loving husband, proud dad, and the most involved grandpa a child could ever ask for. He was a protective, larger than life, brother and the "Fun Uncle." He provided endless unforgettable experiences for all his nieces and nephews during their visits at the farm. Jim was a big kid all his life. He was a dreamer who didn't just dream. He followed his heart and was never afraid of taking the road less travelled. He had the warmest smile, biggest most amazing laugh and always had a story (often embellished) to tell.
Greeting Jim on the other side were his parents Jim and Helen Martin and so many special extended family and friends. We know they are all reunited, telling the best tall tales around the campfire after a long day of fishing and hunting. Left to carry on his memory are his wife, of what would be 50 years this November, Joyce. They were inseparable, a perfect testament and example of love and devotion. Children: Clinton (Christine), Marcy (Andy), Kevin (Tanis), Kimberly (Sean). His cherished grandchildren: Ayden, Nathan, Anaya, Austin, Rowan, Charlize. Brother Dan (Anna), sister Jan (Gerry), and many, many wonderful nieces, nephews, cousins, and dear friends. Family was absolutely everything to Jim. They were the heart of who he was. These values are a legacy that lives on in all his children and grandchildren.
Jim's ability to dream big, led him on a life full of adventures. During Jim's life, his incredible list of accomplishments include: owning and operating a guided hunting business and trapline. He even authored a book detailing the adventures and misadventures during that time. He was a cattle and grain farmer. He was a commercial fisherman who spent every May long weekend at Sturgeon Lake. Sturgeon lake coincidentally, was also where he caught a record breaking Northern Pike which may still grace the wall of the Cozy Cove Marina. Jim loved to go camping, especially with his kids and grandkids. He also loved to go fishing; whether it was in a "tippy frickin' canoe," rowboat or his beloved Bayliner. The outdoors is where you would always find him. Jim was a dependable courier who encountered all sorts of crazy weather and interesting people in his travels. Jim was also an inventor. He had a patent pending on one of his many innovative ideas. Perhaps his most lasting legacy, apart from his family, is the beautiful Chinook Valley Golf course that he dreamed about and built on the very ground on which he farmed and his cattle grazed. Jim was an avid golfer. Nothing brought him more joy than returning "home" and golfing with his kids and grandkids at Chinook. In retirement, Jim wrote his book "A Walk on the Wildside;" built a beautiful log cabin with trees hand picked from his beloved land; started chainsaw carving and created many things including the beautiful totems that look over his home. Jim took up painting and drawing and created unique jewelry from moose sheds. He loved going to the farmers market each week with Joyce. It was here where he sold his art alongside Joyce's delicious baking. The people at the market were another special family for him. He always looked forward to the weekly visits there. Jim's favourite place, each weekend November to March, was at various Peace Country arenas cheering loud and proud for his hockey crazy grandkids. No matter what the activity, Grandpa was in the stands or audience with the biggest smile on his face.
Jim's life was full of adventure and love. He will be so very deeply missed. A celebration of his remarkable life will be held at a later date.
In his memory: live life to the absolute fullest; dream big; take chances; try something new; make time for family; keep them close no matter the distance; say I love you every chance you have; get outside; be in awe of how beautiful it is; respect nature and all who call it home; and every once in a while...take the road less travelled.