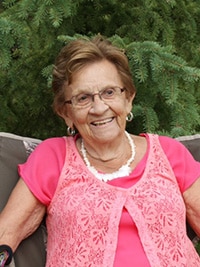 Jeanne Marie Gauthier
On March 2, 2018, Jeanne Marie Gauthier of St. Albert, formerly of Fort McMurray and Plamondon, passed away at the age of 90 years.
Jeanne leaves to mourn, her eight children; three sons: Euclid (Ruth), Jacques, and Richard; five daughters: Marianna (Ron) Magas, Marilyn (Bruce) Dika, Colette (Chris) Wilson, Giselle (Leonard) Mandrusiak, and Jeannelle Gauthier ( Ken Krawchenko); son-in-law Normand Landry; fifteen grandchildren; fifteen great-grandchildren; one half-brother Dennis, his spouse Madelaine; nieces, nephews, and numerous other family members and friends. Jeanne was predeceased by her husband Urban in 2000, and her daughter Marcelle Landry in 1998.
Memorial donations may be made directly to: Homeland Housing 9922-103 Street Morinville, AB T8R1R7,  attention: North Ridge Lodge Recreation Fund.
The family would like to express their gratitude to the staff of the Lodge, St. Albert Hospital, and St Albert Youville Home who helped make Jeanne's final days as comfortable as possible.
Memorial Mass
11:00AM Thursday March 15, 2018
St. Albert Catholic Church
7 St. Vital Avenue St. Albert, AB
Memorial Donations
Homeland Housing
C/O Northridge Lodge Recreation Fund
9922-103 Street
Morinville, AB T8R1R7