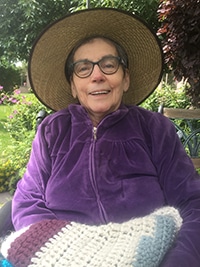 Jeannette Barbara Murphy (Gudmundson)
Oct 29, 1943 – Sept 1, 2020
Jeannie was born in what was once Fort William, now known as Thunder Bay. Her dad, Trygvi, was an artist, mechanic and inventor and her mom, Gen, worked up to three jobs to support the family. Her sister Dianne was the eldest and Jeannie looked up to her very much. Jeannie had many cousins and it was such a treat to visit them as there was always laughter and stories and a packed kitchen. Though at our cousin Peter's wedding it was noted that our side of the family also enjoyed the bar…
Her sister Dianne was ahead of her and in her final years, Jeannie relied on Dianne's comfort, presence and love. Truly a big sister, and Jeannie truly a little sister full of mischief.
Jeannie was part of a gang of girlfriends who to this day still hang out and keep in touch. While Jeannie lived away, she never lost touch and could often be heard on the phone for hours (yes, hours) talking and laughing. As Jeannie prepared for her death, her friends and cousins would talk to her over the phone. Jeannie's eyes would shine with warmth at their voices and prayers. Each of you should know how much you meant to her – and how much she held you in her heart. And how much she would smile when she heard your names.
She worked as a hairdresser, a switchboard operator, and somewhere along the way as a cowgirl when she was in her teens. Later, she met Mickey on the train in a fairy tale moment and they married in 1965. Eventually they had three daughters; Mary Murphy (Pierre Jean-Louis), Suzanne McCormick (Slade), Heather Burnash (Wayne), and several cats and dogs. Her grandchildren Emma, Fin, Zoe, Rowan, Gabe, Ethan and Brooke brought her great joy. She did not get a chance to meet her two great grandchildren, but we have faith that Aaron has greeted her in heaven and that she will be watching over little Miriam. Jeannie loved being a mom and a grandma though her health often interfered. When Mickey was dying, the caregivers at Sherwood Care helped mom stay vigil at his bed.
Mom always strove for the best for us kids. She would research recipes and make us the most amazing lunches - she took pride in researching recipes, being creative and ensuring things were nutritious. Later on, she was always trying to find even more nutritious foods for the grandkids. Stevia was a major find for her. She loved to do crafts and she learned many as a young mom and eventually tried to teach us kids. But, we were mainly hopeless, until two of us had our own kids and realized mom had actually influenced and taught us to cook, be crafty, garden and make a home. Unfortunately, none of us received the wall papering gene.
She loved to learn, and she was curious. She was always asking questions and looking things up so she could also share the information. Mom has read every plaque from PEI to Vancouver Island, and still she wanted to learn more. She loved music and that trickled down to us kids and the grandkids. She found us the nearest thing to free music lessons through the university and it made our lives better, though we can all imagine how they suffered until we could play tunes one would recognize. Thanks Mom!
And because she was curious she thought we kids should be also – so she signed us for all sorts of clubs like brownies, and junior achievement, baton lessons – and sports as we liked. She always saw our potential and always wanted the best for us. Perhaps because she wanted to know so much more of the world than she thought she knew. In the end it turned out mom was a hidden genius. We found this out when she could put a fire out in the kitchen without evidence in a matter of seconds and pull off the most surprised face – 'the battery must in the fire alarm must need changing' then she would laugh and have that 'little sister' mischievous look that was supposed to portray innocence. But, she loved to laugh, so she could never quite pull it off.
Her CD collection was huge, and she could listen to music for hours. Even as her health deteriorated, she could still remember most of the words to most of the songs. She learned gardening from her father in law and she made her yard a place of beauty each spring and summer. She worked hard on her house too, wallpapering, painting, cleaning etc. and never could sit still. Even into her 70's she was working hard on her décor.
Her crafts were numerous and so creative. Her pets were her joy and she had full photo albums for each of them. She was never quite on time, and dad got his masters in patience. It even felt like that as they died. Dad died in June, so obviously mom would have to let dad wait… we can imagine dad, waiting in the car as mom got herself ready, then changed her mind about an outfit, then forgot something on the counter… love is patient.
Jeannie was an avid volunteer, and she was ready to help when she was able. She wrote plenty of letters to city officials to give them advice and she did all this because she loved others, she wanted safe communities and she wanted to make the world a better place. She loved her neighbours, and when she could she reached out to help, and especially helping her friends in town who were sick. If she could – she would have been a singer, a poet, a politician, a priest and she really wanted to be the best mom and grandma ever. And she gave it her all – despite the health challenges she suffered and many misdiagnosis – mom laughed through this life with full gut giggles and tears.
What could we say about Jeannie - she loved so much - she wanted the best for her family and never wanted to die – she just wanted to keep learning. But now, she is in a place where her pain is gone and she is learning in a whole new way!
A special thank you to the pastoral care team at Our Lady of Perpetual Help Church and at Sherwood Care who helped my mom live her faith in dignity to the end. A thank you to all the staff at Holyrood Extended care, Lifestyle Options Whitemud (butterfly unit). We can't thank the staff at Sherwood Care Long Term Care enough – this place became her home. Mom could laugh with the caregivers, sing and listen to music, pray, be hugged and loved. Thank you! To Sherwood Care workers - your love made all the difference!
Funeral Service
Live streaming - https://www.olph.ca/video/
Friday, September 18, 2020 at 1:30pm
Our Lady of Perpetual Help Church
18 Brower Drive
Sherwood Park, AB