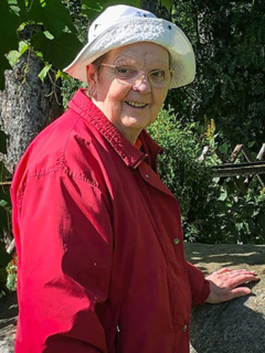 Jennie Alberta Haney (née Anketell)
November 8, 1938
-
March 15, 2022
Jennie Alberta Haney, 83, passed away peacefully on March 15, 2022 in Edmonton, AB surrounded by family. Raised in Moncton, NB in the caring homes of Evelyn and Everett Gorman, and Renée and Paul Magee, Jennie trained as a nurse in Saint John, NB and later earned her Bachelor of Science in Nursing from the University of Alberta. A mother of five, Jennie loved working in her garden and tending to her flowers. She also enjoyed travelling — exploring places both near and far.
Jennie is survived and will be sadly missed by Jack Haney, her loving husband of 59 years; daughters Linda Marie Johnson (Sean) of St. Albert, AB and Cathy Ann Koller (John) of Edmonton, AB; sons John Haney (Natalie) of St. Albert, AB and Danny Haney (Allison) of Terrigal, Australia; sister Beulah Parker of Stoney Creek, NB; fifteen grandchildren; and two great grandchildren. She is predeceased by her darling daughter Karen Louise Haney in 1982; sisters Evelyn Cormier, Juanita Carter, and Eileen Dysart; and brothers Roderick 'Roddy' Anketell (Miriam) and Owen Anketell (Joan).
A viewing will be held on Tuesday, March 22 at Good Shepherd Parish (18407 60 Ave NW) starting at 10:30 am. The funeral service will follow at 11:00 am with Rev. Leo Hofmann presiding.
To view the service via live-stream, please use the following link:
https://vimeo.com/689885840/25fb7eed68
Only for those viewers using a "smart TV" (a TV connected directly to the internet) who wish to watch it live on TV rather than on an iPad or computer. A short instructional video that will walk you through the process of accessing the link on your TV screen has been posted on YouTube. Once again, we would encourage you to test this ahead of time. If you are able to bring up Jennie's photo on the TV screen, you have done it correctly and the mass will be accessed in the same manner. The link for the YouTube instructions is below.
IMPORTANT: 
Only click on this link if you have a smart TV
 and want to set it up for viewing the funeral live. Otherwise, ignore this link and only use the one at the very top of this email.  
https://youtu.be/jp6sb5n52JU
On Tuesday at 10:50 a.m. (EDMONTON TIME), ten minutes before the mass begins, the photo will disappear and instead the screen will automatically take you live to the church. To participate live at the mass, you only have to clink on the link above as you have practiced. Nothing else is required of you.
We are so happy that we can have you join us, even when you can't be in the church, it means the world to our family.
On behalf of the family, thank you.
Linda Marie Johnson
If desired, in lieu of flowers, donations to the Marian Centre (Edmonton) and Ronald McDonald House Charities would be appreciated by the family.