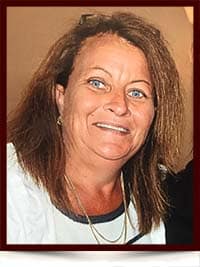 Jill Shermaine Marie (MacDonald) Taylor
With heavy hearts, we announce the passing of Jill Shermaine Marie (MacDonald) Taylor of Hay River, NWT on Oct 31, 2017, at the age of 52.
As the only girl in the MacDonald clan, Jill was the heart of her active family in Port Hawkesbury, NS. Growing up with four brothers and surrounded by a large extended family, she developed a love of family and community that would carry her through her life.
Jill graduated from Acadia University with her BA ('86) and BEd ('88). While studying at Acadia she met Mark Taylor who became the love of her life. As newlyweds, she and Mark left the East for new adventures in Canada's North.
Together, Jill and Mark embraced life in the North. They raised and raced dogsled teams and immersed themselves in the culture, creating long lasting friendships in the communities in which they lived. Throughout her northern teaching career Jill worked in Cambridge Bay, Norman Wells and Hay River. She taught classes ranging from grade-3 to high school, was a Vice Principal and Principal, and eventually travelled throughout the Territories as an Inclusive Education Program Coordinator for the SSDEC school board.
Jill's commitment to her community, and particularly at-risk youth, led her to create Lights On, which is a volunteer-led program to provide youth with a place to go for recreational activities on Friday and Saturday nights. She worked behind the scenes to raise funds for those most in need, including the Not-Us anti-drug campaign and the Leadership and Resiliency program. Over the past few years, Jill was very passionate about helping others as a 'mindfulness' coach. In 2013, in recognition of her work both inside and outside the classroom, she was named into the Northwest Territories' Education Hall of Fame. In 2014, she received the Queen's Diamond Jubilee Medal as a supporter, mentor and advocate of youth at risk.
Jill's generosity and kindness knew no bounds and she had a gift for life-long friendships, particularly with her close-knit group of girlfriends in Hay River, who are truly northern lights. She was a loving daughter, sister, wife, mother and grandmother who took care of those around her. We feel blessed to have had her in our lives.
She is survived by her husband Mark Taylor, son Michael Taylor and joyful grand-daughter Madison, parents Lennan and Irma MacDonald, and brothers Shaun (Jill) MacDonald, Paul (Christine) MacDonald, Lennan (Tracy) MacDonald and Lars (Patsy) MacDonald, Mother in-law, Donna Taylor, brothers-in-law, David (Mona), Kevin (Treena), Derek (Lori-Anne), sister-in-law, Krista Taylor as well as many nephews and nieces.
She was predeceased by her brother Mark, father in-law Robert Taylor, son Matthew Taylor, nephew Nathan Taylor and aunt Donna MacKinnon.
In keeping with Jill's wishes, there will be a celebration of life in Hay River on Saturday, Nov. 4th at the Diamond Jenness Secondary School at 4PM. In lieu of flowers, donations may be made to the Lights On program in Hay River.