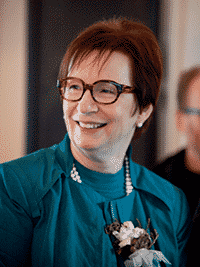 Joan van Zant
VAN ZANT, Joan passed away surrounded by family on Monday, December 16, 2019. Survived by her beloved husband of 39 years, Norm Bourbonnais. Loving mother of daughter Amelia (Greg) and cherished grandmother to Alice and Jane. Joan will be dearly missed by brothers Ed and Frank, and sister Annie.Predeceased by parents Victor and Margaret, and siblings Elaine and Terry.
Born in Gatineau, Quebec, Joan went on to become one of the first-ever female patent agents in Canada. She was a role model for many women in her field, as well as a great mentor and friend. Dedicated to her profession, she served as president of the Intellectual Property Institute of Canada (IPIC) from 1997-1998 and was named as a Member of Distinction of IPIC in 2015. Joan's career brought her all around the world, having lived in England, Switzerland, Montreal, Ottawa and Toronto.
Retiring in Edmonton, Joan adored her family and loved her granddaughters beyond measure. She spent time sewing, knitting, and making "grandma's special pasta" for her girls.
Memorial Donations
In lieu of flowers, please make donations in her name to the Alberta Cancer Foundation.