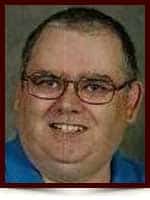 John Edward Ayotte
John Edward Ayotte, 56, of Edmonton AB, died September 9th 2014.
"Johnny", son of Gerald and Doris Ayotte and loving husband of Elaine Ayotte, passed away on September 9th at his home in Edmonton after a long battle with various illnesses.
He is survived by his wife Elaine, and by his brothers Gordon Ayotte of Parksville B.C., Ellard Ayotte (Doris), of Bailieboro Ontario and Kenneth Ayotte (Molly) of Edmonton. He is also survived by his sisters Lorna Rothney of Camrose Alberta, Debra Salazar (Jamie) of Fort Lupton Colorodo, and Janice Paulson (Bob) of Winchester New Hampshire, as well as numerous nieces, nephews and cousins in Alberta, Ontario, Quebec, Colorodo and New Hampshire.
John worked for Telus for many years until a few years ago when he had to collect disability insurance due to illness. His favorite hobbies included playing video games, watching wrestling on television and collecting Coca Cola items, which he was very proud of and was always ready to show to visitors. He will be greatly missed by his family and friends.
Funeral Service 
10:00AM Monday September 15, 2014
St. Josaphat Cathedral
10825 97 Street Edmonton, AB