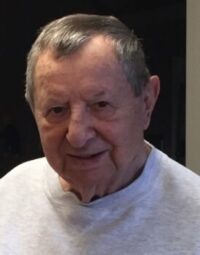 John Marian Hoim
November 12, 1925
-
December 26, 2021
On December 26th, 2021, our sweet John Marian Hoim, at the age of 96, left us to be with his beloved wife, Helma.
TRULY...to know him was to LOVE him! Whether he was Uncle, Grandpa, friend, or father figure, he was fondly known for his kind, polite, gentle, caring spirit!
John was born in Krakow, Poland in 1925. Very little is known about his family or history, as he fled his war-torn country to make a new life in Canada. What we do know is, his father's name was Jan Hoim, and his mother's name was Rozalia Zablocka. John also had a younger brother named, Adam. He was never able to re-connect with these family members due to war time conditions.
Once in Canada, John settled in Edmonton where he met and fell in love with Helma Tarrabain. They married in 1959 and spent the next 61 years together until Helma passed in 2020. They never had children of their own, however, after one year of marriage, they took on Helma's niece, Teresa as their own and raised her as their daughter.
In their early years of marriage, John became an entrepreneur in the hair dressing industry. He opened up his first business called, "John's Beauty Salon" on Stony Plain Road in Edmonton, specializing in women's hair. After many years, he decided to go back to school to become a barber, and opened, "John's Barber Shop" in the Glenora area of Edmonton where he remained until his retirement. He was known as, "The Gentle Barber", and was famous for his crew cuts and clean shaves!
John will be especially missed by Teresa Verbin Ferchoff and her two sons, Jesse and Kane Verbin, as he played the cherished role of Father and Grandfather to them.
John will be missed, and always remembered by many others who had the joy of knowing him.
A special note of thanks to Bryan Newman and Bob Enstrom for remaining John's faithful and loyal friends for over 35 years.
We would like to sincerely thank the staff at Lifestyle Options Whitemud for their exceptional care for John and Helma over the past eight years. A very special thank you to all those who cared for John over the last two years while he was in supportive living.
There will be a celebration of life for both John and Helma in the future. Details will be forthcoming. Both John and Helma will be interred at the Beechmont Cemetery alongside pre-deceased family members.