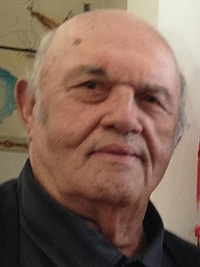 Joseph (Joe) Celestine Oleniuk
Passed Away
February 6, 2021
It is with heavy hearts that we announce the passing of Joseph C. Oleniuk of Edmonton, Alberta on February 6, 2021 at the age of 82 years.
Joe is survived by his devoted wife of almost sixty years Joan (Rozmy), their children Carolynn (Christopher) Shortt, Wendy (Jalal) El-Issa, Joseph Oleniuk Jr. (Chris Nurse), Barbara Oleniuk, Patricia (Lee) Quast; grandchildren Jasmine El-Issa, Zachary and Erika Shortt, Jacob Quast and Lexi Oleniuk; niece Khouloud El Haj Obeid; brother Paul (Vera) Oleniuk, their sons Marcus, Lucas and families.  Sadly, Paul passed away shortly after Joe, on February 8, 2021. They are predeceased by their parents Peter and Doris (Malysh) Oleniuk, Joe's in-laws John and Bernice (Bokza) Rozmy, sister-in-law Helen and her husband Thomas Koep.
Joe was a man of many talents and interests.  He played football as defensive tackle in London, Ontario and Edmonton, Alberta.  He was a life-long supporter of the Edmonton Eskimos and his friends who played for the team.  Joe ran successful transportation companies for over 50 years. It was only recently that he relinquished the day-to-day management of his company.
Joe travelled with his family across the United States and Canada several times before taking up summer residence at Beaver Lake in Lac La Biche, Alberta where they spent over 30 fun-filled seasons.  He was an avid fisherman and spend many long hours on the lake with his boys, often telling stories of the big fish that got away. He enjoyed visiting his Aunt in Cold Lake, Alberta – fishing, attending air shows and experiencing nature.  Joe enjoyed travelling and meeting up with family and friends, he especially enjoyed Las Vegas where he embraced the good life.
Joe was a kind and loving husband, father and grandfather. He anonymously supported many charities and causes throughout his life. He taught us the importance of resilience and hard work, while always encouraging us to live our best lives and to enjoy the little things. He found great joy in spending time with his family and loved seeing his grandchildren often. We love you Papa.
Special thank you to Joe's dear friends who brightened his days and lifted his spirit, especially the Ripoli's who are family to us.  Thank you to the staff and friends at Kipnes – a second home to all of us these past few years.
A Celebration of Life will be held for Joe at a later date once gathering restrictions are lifted.
Donations may be made in Joe's memory to the Kipnes Centre for Veterans, Sacred Heart Church or the charity of your choice.