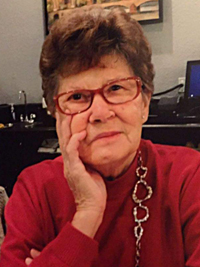 Joyce Shirley Albers (nee Feland)
Joyce Shirley Albers (nee Feland), 82, of Edmonton, Alberta passed away on March 28th, 2020. She was born on August 5th, 1937 in Bonnyville, Alberta. Joyce was one of 16 children raised in the small community of Glendon AB.
Growing up with a strong work ethic and no stranger to grief, Joyce experienced this first hand when her husband Henny was tragically killed in a car accident. Now a young widow with 2 small children, James and Nancy, she worked hard to provide for her children. Joyce eventually met her husband Benny Albers and they were married in Edmonton in 1969. Together they had two daughters, Jennifer and Nadine. The family of 6 grew up in Edmonton, while also enjoying a small acreage near Smoky Lake that gave Joyce many years of enjoyment vegetable gardening, picking wild strawberries, blueberries and eating fresh fish from Mons Lake. Many cherished memories were made at "the cabin" enjoying the bounty of their garden and the company of friends and family.
Joyce was a lover of music, not only in the listening and making of it, but also in imparting a love of music to her children and grandchildren. She was a person of strong moral character, and expected the same from her children. Joyce was a survivor, and a fighter, facing numerous hardships in life, and overcoming every single one with grace. After the children had left the house she and Benny enjoyed cruising, working in the garden, spending time at the antique malls, playing cards with their friends and especially their grandkids, as well as traveling across Canada and the United States to spend time with their children and grandchildren.
The efforts and love of Joyce are reflected in the size of her greatest legacy, her family. Joyce was a tireless, hardworking mother to her children, and grandchildren. Among her four children came a total of 11 grandchildren, as well as two great grandchildren and another due any day.
Joyce is survived by her husband of 50 years, Benny Albers, her four children, James, Nancy, Jennifer (Patrick), Nadine (Chris), and her grandchildren and great grandchildren, Joshua (Connie), Aaron (Kaz), Matthew, Nathan (Madi), Reid, Claudia, Duncan, Peter, Graham, Riley, Declan, Blake, and Hudson.
Joyce was deeply loved and will forever be missed by not just her family, but the friends she made over her lifetime.
Her family would like to send a heartfelt thank you to the UofA nursing staff on unit 5C4 for their exceptional care and compassion during her final days battling Myelodysplastic Syndrome.
At Joyce's request there will be no funeral. Her ashes will be spread by her family at a later date.
Memorial Donations
In lieu of flowers donations can be made to either;
Canadian Blood Services at www.blood.ca
Canadian Cancer Society at www.cancer.ca