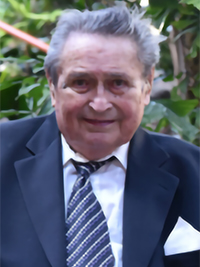 József Takács
Passed Away
September 29, 2021
It is with deep sadness and heavy hearts that we announce that József Takács of Edmonton passed away on the morning of September 29, 2021 at the age of 89 years.
He is survived and will be greatly missed by his wife, Ilona; his children, József (Erika), Ilona (Brian); his sister Margit; his grandchildren, Erika (Balázs), Victoria (Paweł), Christina (Hans), Jószef, and his six loving great-grandchildren, Zofia, Tomasz, Hanna, Sebastian, Boglárka and Oskar. He was predeceased by his parents József and Margit, and his brother, Nándor.
József will be remembered as a devoted family man who had a long, fulfilling life. He spent 68 happily married years with his loving wife while supporting his two children through every turn of their lives. He cared for his children and grandchildren with limitless love and then enjoyed the company of his great-grandchildren in his golden years.
József was known for his meticulous work in everything he did, from wood-working to planning projects and keeping records. He worked very hard all his life, spending over forty years with the same company starting as an apprentice and moving his way up to head engineer.
Additionally, József was a professional soccer goalie for many years, which his family took great pride in. His love of fishing led him to become a dedicated leader of his fishing association back in Hungary. He was also an accomplished photographer, who blessed his family with many cherished mementoes of their lives which they will be forever grateful for. József was a generous, helpful, and kind person who was respected by everyone who knew him. When he left this life, the world lost an exceptional man. He will be forever remembered and loved.
A private mass will be held at St Theresa Parish on October 16th followed by service at Rosehill Cemetery.