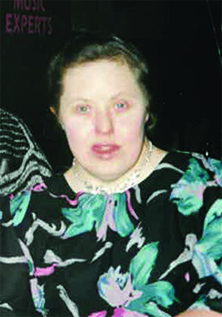 Karen V. Fink
July 26, 1957
-
June 12, 2021
Heaven has found another Angel with the passing of Karen on June 12, 2021 at the age of 63 years.
With her loving family by her side, she left this world to join her parents Virginia and Werner in Heaven.
She will be remembered as a sweet and gentle soul. Always with a smile and a hug. Ready to sit down and join you for a coffee and a visit anytime. The many friends she made at Winnifred Stewart Association (her 2nd family) over the 50+ years, will miss her dearly.
Donations in her memory can be made to the Winnifred Stewart Association.
A Celebration of Life will be held at Trinity Funeral Home, 10530-116st. Edmonton, AB on Wednesday July 7, 2021 at 2PM, with a private family interment to follow immediately.
Due to COVID restrictions there will not be any formal reception following the Celebration of Life.
The family respectfully requests that anyone who attends, to please be vaccinated.