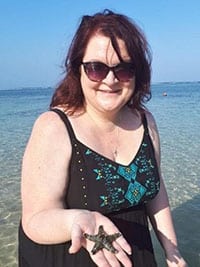 Katherine (La Porte) Hryhorczuk
Katherine (Kat) Hryhorczuk, nee La Porte, passed away suddenly at her home on Friday, February 26, 2021 with her husband Jason by her side and her dogs Sam and Lexi nearby.
Our beloved Kat was born January 15, 1974 in Winnipeg, Manitoba to Robert (Bob) and Brenda, the middle of three children. She and her family moved to Edmonton when she was still a child, and she completed her schooling at Victoria Composite High School in 1992.
Kat was an accomplished professional who worked hard and excelled at everything she did. From running her own management consulting company to earning her privacy professional's certification in 2019, there was nothing Kat could not do. If it needed to be organized, scheduled, arranged, or presented, it was done quickly, efficiently, and perfectly every time. In fact, her skills are so impressive that, we are quite certain that she'll have Heaven whipped into shape and running according to her management plan by next Tuesday at 3:00! Kat's absence will be keenly felt by the doctors, staff, and patients at the Baker Clinic, where Kat had been the clinic manager since 2014, and by everyone who was fortunate enough to work with her at the Edmonton North Primary Care Network, Alberta Health Services (AHS), Fort Medical Clinic, and especially FunSun Vacations, where she made many lifelong friends.
In addition to her professional accomplishments, Kat was also a dedicated volunteer and sat on advisory and steering committees at the Northern Alberta Institute of Technology, Ashton College, Norquest College, and AHS. Kat was also actively involved in the Alberta Association of Clinic Managers, the Edmonton & District Clinic Managers Associations, the AHS Privacy Officer Community of Practice Group and had been a regular speaker at the PCI Forum since 2009. But our Kat was so much more than her career!
Kat was also an adventurer! She loved to travel, especially to warm places like Cuba, Mexico, and Jamaica. She loved trying new foods (Kat once organized a series of around the world food nights) and wines (she and her dad make an excellent home brew). Kat loved beautiful shoes and Starbucks coffee but most of all Kat loved her family - the one she was born into and the one that she built for herself. Kat had a complex system of brothers and sisters, aunts, uncles, cousins, chosen children (as she called them) and friends that she was absolutely devoted to and supportive of (Kat was always the first person to support a home-based business or new venture) but Kat's greatest loves were her son Trysten and her husband Jason.
Trysten was the joy of her life and they had many, many adventures together, including a backpacking trip to Europe when Trysten was three. Kat put him in a backpack and they visited Italy, staying in hostels and taking trains. She was endlessly proud of Trysten and the man he was becoming. She talked to him every day and would share the news proudly whenever he brought her coffee or flowers or showed up at the Baker Clinic for a chat.
Jason was her partner, her travel buddy and her very best friend and they were fortunate to spend two decades having their own adventures. These included traveling to Manitoba to visit Jay's family, MANY trips to Cuba, planning their wedding at Fort Edmonton Park in 2018, their honeymoon in Bali, renovating their houses and launching Jason's business. Jason filled her heart and her days with so much love and joy… it was a wonderful thing to witness.
Kat also had an amazingly close relationship with her dad, an incredible capacity to love and forgive others (with some sass now and then) and her impact on the lives she touched is incalculable. It is enough to say that the void she leaves is immeasurable and unfillable, and for those who knew her best and loved her most, it is impossible to comprehend a world in which she is no longer with us.
Katherine is survived by her husband Jason Hryhorczuk, son Trysten La Porte, father Robert (Bob) La Porte, sister Peggy La Porte, and brother Ryan La Porte. Kat will also be loving remembered by Jason's son Alex and his wife Hayley, her parents-in-law Chris and Terry, her stepson Adam, her nieces Meghan and Savannah, and nephews James and Brett. Kat was predeceased by her mother Brenda Adshead.
Due to COVID-19 restrictions, a small gathering will be held for Kat on Friday, March 5. The gathering will be livestreamed through the link below.
Click here to watch the service for Katherine Hryhorczuk
We encourage you to pour a cup of coffee, a glass of wine or even a tequila cocktail and join us in celebrating the life of this remarkable woman.
In lieu of flowers, donations may be made in Kat's memory to the charity of your choice.