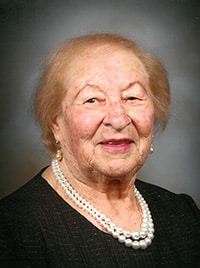 Katherine Wasylkiw
Katherine Wasylkiw was born on May 16, 1924 in Narayiv, Ukraine and passed away on March 16, 2019 in Edmonton, Alberta at the age of 94.
Katherine is predeceased by her loving husband of 67 years Julian. She is remembered as a loving, caring, and giving mother by her two sons Jerry (Ramona) Wasylkiw of Edmonton and Ihor (Marie) Wasylkiw of Calgary; five grandchildren, Adam, Alanna, Larissa, Mark and Steven and two great grandsons Mason and Wyatt.
Katherine was a survivor of World War II, having worked in numerous labour camps in Austria, Germany and Bavaria from 1942 to 1947. During these most difficult times Katherine met Julian and fell in love. In April 1949, as man and wife, Katherine and Julian immigrated to Canada, arriving in Quebec City before settling in Winnipeg, Manitoba where her two sons were born.
Katherine worked hard as a mother and wife, taking care of her children and providing for her family which contributed to the dream she and her husband had of purchasing a hotel. From 1961 to 1971 Katherine and her husband Julian were successful hotel owners in the village of Oakburn, Manitoba before relocating back to Winnipeg where her sons completed university. In 2006, Katherine and Julian moved to Edmonton to be closer to their sons and grandchildren.
Katherine was a selfless, loving mother. She loved singing, sewing, playing cards and spending time with her family. One of her most common saying was "I wish you the best." She enjoyed gardening, travelling and cooking and made the best perogies in town! Frequent trips to numerous beaches around Winnipeg with her family were common. Her fondest vacation memories were that of Hawaii and Mexico. She was amazed that while it was -30C in Winnipeg, it could be +30C in these tropical locations! How wonderful!
Katherine will be so dearly missed by her family and all those who loved her.
Funeral Service
Thursday, March 21, 2019 10:00 AM
Trinity Funeral Home Chapel
10530 - 116 ST Edmonton