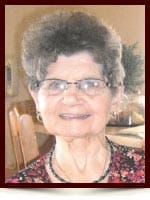 Kazimiera (Kaesy) Mykytiuk
On December 17, 2014, Mrs Kazimiera (Kaesy) Mykytiuk of Edmonton passed away peacefully at the age of 72.
Kaesy is survived by her loving husband Walter, her son John (Jacky) Mykytiuk, her two daughters Irene Blackburn and Tamara ( Jock) Swensrude; six grandchildren Katelynn and Nicolas Mykytiuk, Noah and Rebecka Blackburn and Joshua and Zachary Swensrude. Predeceased by her parents Jozef and Jozefa Stanio and sister Christina Makranoff.
Kaesy was born in Lubaczow, Poland in 1942 and came to Edmonton in 1962 where she met her husband Walter and raised her family. The family wishes to thank the staff at St. Michael's Nursing Home for their kindness and caring.
Divine Liturgy
10:00AM Tuesday December 23, 2014
St. Josaphat Ukrainian Catholic Cathedral,
10825 97 Street Edmonton, AB
Interment
St. Michael's Cemetery
Memorial Donations
Charity Of One's Choice