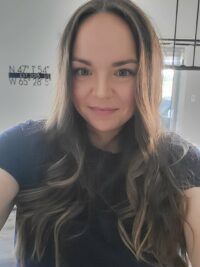 Kelsey Blair Theriault
October 2, 1990
-
June 13, 2023
With deep sorrow and much love, we mourn the passing of Kelsey Theriault on June 13, 2023, while surrounded by family and close friends. She leaves behind her devoted husband, Paul Theriault; her precious young boys, Cameron and Callan; her mother, Terry MacLellan; her sister, Taylor MacLellan; mother-in-law, Annemarie Theriault; and stepdaughter, Isabella
Theriault.
Kelsey was born and raised in Leduc. She and Paul were wed in Miramichi, NB, in August, 2015. Their firstborn, budding hockey star, Cameron, arrived in July, 2016. They built their family home in Leduc in 2020. In September of 2021, Kelsey received her devastating cancer diagnosis, necessitating the preterm delivery of little "Uh Oh", Callan, in November 2021. Kelsey was a strong, determined, bright, and generous young woman, who courageously fought a bitter battle with cancer. She loved her boys, always putting their wants and needs first and foremost. She was very supportive of her mom and sister, and a reliable source of sharp wit, humor and fun for her closeknit group of friends. She thoroughly enjoyed her position as Talent Advisor at Denton's Law Firm in Edmonton. She was motivated by the challenges, and was supported with acknowledgement and respect from the Denton's team, a team Kelsey called
her "second family".
Special thank you to AC & UB (Aunt Chris & Uncle Bill), and cousin Cory for your never ending support; Kayla for your enduring friendship; Farzana and Joanna for your boundless compassion; Steph for your neighborly love; the Denton's team, namely Fausto, Agnes and Tamara, for your generosity. Thank you to Su-Ling Goh at Global News for sharing Kelsey's story and helping to raise awareness for the need for early screening. Thank you to the staff at the Cross Cancer Clinic and the Palliative Care Unit at Grey Nuns Hospital for your care during Kelsey's stay. Thank you to everyone who prayed, sent gifts, flowers, food and cards. Words cannot express the gratitude we have for all your support.
Cremation has taken place. Kelsey now rests in peace with her late father, Paul MacLellan, and her maternal and paternal grandparents.
A Celebration of Life will be held at Leduc Golf & Country Club on July 23, 2023 at 1:30 p.m.
Please RSVP to kbtforeverloved@gmail.com by July 16 to provide the number of people attending.
In lieu of flowers, donations may be made to the Cross Cancer Institute in Edmonton, or the Alberta Cancer Foundation.