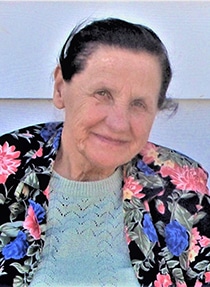 Kreszenzia (Zenzi) Mary Stadlwieser (nee Larcher)
Kreszenzia (Zenzi) Mary Stadlwieser passed away November 4, 2020, at the age of 87. She was born in Tirol, Austria on June 12, 1933, and immigrated to Canada in 1956 to marry Raymond, her childhood friend.
They settled on the farm outside of Beaumont in 1959. Her interests were being a devoted mother to her children, the family, the Catholic faith, making a happy and loving home and helping with farming
She devoted much of her time to maintaining her relationship with her family in Kaunertal, Tirol and her friends in Alberta.
Kreszenzia will be lovingly remembered by her husband Raymond of 64 years; 11 children: Anton (Shirley), Roy (Rachelle), Joseph, Richard (Martha), Mary (Pierre) Bitz, Diana (Steven) Pellegrin, Clarence (Leah), Bernard (Heather), Daniel (Treena), Helen (Matthew) Schuck, Benjamin (Colleen); 26 grandchildren, 4 great grandchildren, 6 siblings,: Gusti, Eugen, Adele, Rosemarie, Hedi and Hubert; as well as by extended family, nieces, nephews and many close friends.
She was a kind and generous soul, and always had room for one more at the table. She touched so many hearts with her loving spirit.
She was predeceased by her parents Eduard and Rosa Larcher and 3 siblings: Elsa, Fini, and Erik.
A Mass of Christian Burial will be held at St. Vital Catholic Parish in Beaumont, AB on Saturday November 14, 2020 at 11:00 am. Due to Covid 19 circumstances, the church service will be limited to the family.
The interment will take place at St. Vital Church Cemetery.